Last updated on August 31st, 2020 at 02:31 pm
There are many brand names, both big and small, in the world of alpine skiing gear. A significant number of them are based in the United States. This article will go through some of the top American brands and give a brief insight into how they started.
The majority of these brands do the backend work for creating their skis right at their headquarters location. Many of the success stories that can be found within these companies started with one or two people building skis in their basements or garages with a dream of something bigger. Now they are some of the most well-known names in skiing gear.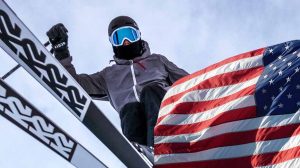 American ski brands
Below we have listed well known as well as small American manufacturers of skis and ski gear. Read more about each brand on their own website.
K2
This brand was created by Bill Kirschner in 1962 and is headquartered in Seattle, WA. K2 was a fast-growing company that manufactured fiberglass skis, and within a year of the initial startup, they had 83 employees and were producing 21,000 skis.
By 1996-1997 they were the number one brand in America in terms of market shares.
The brand has been an innovator within the field of American skiing for decades. That includes being the first brand to start designing products specifically for women under their 1999 Women's Alliance line.
https://k2snow.com/en-us/support/about-k2
Armada
Like so many others on the list, this company started in the creator's basement as a passionate hobby and then expanded to the large, well-known brand it is today.
Armada moved into its first office space in 2002 in Costa Mesa, CA. From there, they moved headquarters to Park City, Utah, in 2015, where they still reside.
They have continually provided quality products to retailers across the United States.
https://www.armadaskis.com/en-us/about-armada
Icelantic
For the first time, Icelantic now owns its own official retail space, which is located at their headquarters in Golden, Colorado.
With a tagline of "return to nature," the Icelantic brand has been embracing sustainability since the beginning when Ben Anderson, Travis Parr, and Travis Cook originally started making and selling ski gear in the garage at the home of Anderson's parents.
It was one of the first brands to manufacture their ski designs domestically.
https://www.icelanticskis.com/pages/contact-us
DPS
The company was founded in 2005 by Stephan Drake and Peter Turner. They have many firsts in terms of unique ski designs, including the first pre-pregnated carbon fiber sandwich ski, 120mm-waisted powder pintail, the Spoon ski, and rockered ski with sidecut.
This is undoubtedly due to Peter Turner's long years of experience as a ski designer before DPS came into being. Their products are sold all over the world, and they continue to make technological breakthroughs for skiers.
They are headquartered in Salt Lake City, Utah.
https://www.dpsskis.com/pages/about-us
Wagner Skis
Pete Wagner moved from custom designing golf clubs to custom designing skis in 2006 when he started the company. Initially headquartered in Mountain Village, CO, they moved in 2016 to Mountain Village at the base of Telluride Ski Resort.
This brand uses computer technology to create custom skis based on a person's height, weight, age level, skill, and any other demographic markers that would be relevant for creating the perfect ski.
This means that every set of skis is unique and guaranteed to provide the best comfort and fit.
https://www.wagnerskis.com/pages/why-wagner
Praxis
All of the Praxis skis are designed and manufactured in Nevada, where their factory is located at Lake Tahoe on the North Shore.
Keith O'Meara founded the company nearly two decades ago, and ever since then, they have provided quality products for skiers all over the world.
This is a popular brand of competitors to use, and they are continually pushing the envelope in design and innovation.
https://www.praxisskis.com/pages/company.html
ON3P
This brand started in a garage and has since built up to become a recognized name in skiing gear. Founded in 2006, ON3P was the brainchild of Scott Andrus, who started building and selling skis while attending college in Tacoma, WA. In 2009 they moved to Portland, OR, and their first factory space.
As of 2015, the brand is selling all over the world. ON3P is a ski brand created by skiers, and the experience shows.
ON3P provide some fantastic off-the-rack and custom options.
https://shop.on3pskis.com/pages/history
Community Skis
This is an amazing brand with a mobile factory that can take it to different communities while providing customized, superior skis for people around the country.
The entire factory is a system built into a long trailer. This makes it a one of a kind brand.
Creativity, dedication to success, and connection with the client are what fundamentally drives this family-owned brand.
Gilson
The history of the Gilson brand, created by Nicholas Gilson, is definitely worth reading. A detailed retelling of every step of the process from the first idea until the original ski prototype was created has been detailed on their site, and it tells an inspiring story of a dream coming to fruition.
Locally sourced materials and sustainability are a cornerstone of their creation process.
Headquartered in Winfield, PA, this brand designs and manufactures only the highest quality skis and winter gear.
https://gilsonsnow.com/history
Meier Skis
Meier Skis is headquartered in Denver, CO, where they feature a Craft Skiery bar and provide tours of their unique process. They only sell hand-crafted skis using sustainably sourced, eco-friendly, recycled materials.
They also have a unique printing system that provides the same awesome ski prints, but with less ink, paper, and toxins being used in the process. Whenever possible, Meier Skis buys local materials.
They genuinely are a conscientious provider of beautiful customized skis.
https://meierskis.com/pages/why-meier-our-history-and-philosophy
Sustainability and success in American manufacturing
The majority of the manufacturers listed above use locally sourced materials to make sure that all of their resources are as sustainable and eco-friendly as possible.
Making it to the world stage as a ski gear brand is hard work, but these manufacturers have put in decades worth of dedication and resourcefulness to get themselves there.
Not all of the companies listed on their websites where they chose to purchase their materials, but those who did were sure to detail how it enriched their local communities.
Brands like Meier Skis, Community Skis, and Gilson are excellent examples of the American dream made real.