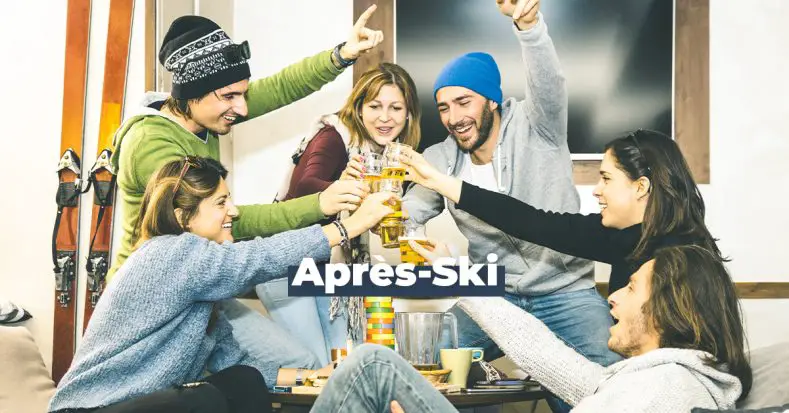 Sliding down on freshly covered snow, having a good time with friends and family, and indulging in great exercise are some of the reasons why anyone needs to go on a skiing holiday. However, when you are headed to the slopes, chances are that you may have come across the term Après-Ski. So, what is apres ski?
Typically, Après-Ski refers to all kinds of activities that skiers tend to enjoy after they have completed their time in the snow. For many skiers, it is an integral part of the ski holiday, where skis come off from your exhaust feet and round two of excitement begins. While most people may think of bars, there's more on offer.
What does Après-Ski mean?
Après-Ski is a term in French that means 'after skiing' or 'after ski'. The term became popular in the 1950s. Après-Ski is the immediate aftermath following a session of skiing. In general, it involves piste-side parties along with dancing in lively bars. 
Après-Ski has its own set of rules, activities, and dress code. And, it depends on what kind of skier you are, where you came from, and who you are. Moreover, Après-Ski starts in the afternoon where you can enjoy drinks in bars and chalets in town. 
Dancing outside in the snow or on benches to recorded or live music is common. Moreover, everything is done in ski clothing. While many argue that Après-Ski continues throughout dinner, others argue that it might last until bedtime. 
It might surprise you but there isn't any right or wrong way to experience Après-Ski. While some people might enjoy tasting the local alcohol and dancing to the rhythm, others might warm up with mulled wine and surround by a fire.
When does it start?
Because Après-Ski means after skiing, it starts at the moment when you are done with skiing for that day. And, for most riders and skiers, it means at some point in the late afternoon. Besides, some people take the rest of the day off and start partying in restaurants and lodges as early as midnight. 
During this time, they will dance in the snow and enjoy warm alcohol shots under sunlight. Besides, at around 3 pm, it is a normal sight to find skiers dancing on the tables while enjoying music. 
When does it end?
The time when Après-Ski ends is a matter of debate. Hence, how long Après-Ski will last depends on the place where you are staying. Many people argue that Après-Ski doesn't stay for long because riders and skiers have to rise early the following morning. 
But this is far from true. Some of the ski resorts tend to have a lot of action late at night. When you visit such places, you can find late-night parties both at bars and restaurants. And, they can last until 3 in the morning. 
Apart from that, several resorts are more focused on serious skiing. As such, you can find a restaurant where you can have your dinner in a peaceful environment. Also, you have to get up early the next day and hit the slopes. 
What should you wear for Après-Ski?
The decision to wear an Après-Ski outfit can either break or make your session. It is quite easy to dress in the spring when it is warm enough to ski with a t-shirt or a jumper. However, remember that after the sun disappears behind the mountain, things can get cold quickly.
Therefore, the key is to have an outfit that combines the practicality and fashion of a mountain-style party atmosphere. Some skiers like to keep the fashion classy by wearing luxury ski brands whereas others stick to their usual clothing. Wearing some kind of ski clothes is the way to go.
And, some people opt for something wonderful, wacky, and bright. Here are a few choices that you can consider having with you. 
Sunglasses or ski goggles – There is no question that things tend to get brighter in the mountains. Hence, when the sun is out and everything is sparkling around, you need to have some kind of eye protection. And, ski goggles are the right gear for Après-Ski. So, don't forget to have them.
Iconic hat – To make parties more fascinating, hats can play a major role. Something that has a groovy touch with an added flair stands out from the rest. Hence, take a few of them in your backpack so that you can wear them in style for cool vodka shots or an amazing photo session. 
Spare shoes – Being a skier, you should think about having some comfortable footwear. At the end of a tiring session, nothing appears more soothing than sliding off the ski boots. That's the reason why having a pair of shoes helps to keep your feet warm and relieve you from pains or aches that you have encountered while you are on snow. A nice pair of boots can make your dance moves fine as well. Of course you can wear the ski boots, but for comfort we recomend changing shoes if you are planning to be at the after ski a long time. You will probably spend enough time in your ski boots when skiing during the days.
Warm mid-layer – If you are looking for a balance between comfort and warmth, having a warm mid-layer such as a down jacket or a fleece could be the right option. The best part is that you can shed the heavy outfit while staying warm and cozy. 
Colored sun cream – Do you intend to protect your skin while retaining a funky style? If so, grab a fluorescent sun cream and paint something different on your face. That way, it protects your soft skin and adds cool vibes at the same time. 
Retro ski suit – If you are thinking about making an impact, nothing can be compared to a retro suit from the 80s. These suits are groovy, waterproof, and provide you with the necessary warmth. So, get your hands on a funky piece and go with a classic style that will make you stand out in the crowd.
Headband – Adding a headband to your outfit is the final touch you can give to your Après-Ski party. Headbands keep away the sweat off your brows and hair.
What does it take for a perfect Après-Ski?
Here are the things that you can try to make a perfect Après-Ski.
1. Try to follow the locals
One of the easiest ways to find great places is to follow the locals. So, try to keep an eye out to see where your ski instructors head after ski school finishes. Locals are your ticket to the coolest places where you can have the best time of your life. 
They know about the right hangout spots that have happy hours. And, some of those places might even offer free food so that your energy doesn't fall until dinner. Remember that there's always a bar that's looking for hungry skiers to lure them with complimentary snacks. 
2. Find live music 
The best Après-Ski parties are the ones that have live music. So, depending on where you are skiing, you can find all sorts of music ranging from classy pianists to pop classics to rock bands. In short, finding live music isn't that hard. 
Hence, keep an ear out during the afternoon while you ski around. While you use your ears, it is good to follow the crowd as well. Not every bar will have live music every day. And, some of them even have reserved parties. Also, it is wise to check the venue before visiting. That way, you won't end up in the wrong place.
3. Always grab the best drink
Whether it is mulled wine, a whiskey, or even a chocolate hot drink, make every effort to ensure that you have the best drink. If you have skied in different regions of the world, you should know that every place serves something different to warm your body on a cold, boring afternoon. 
Therefore, never push yourself behind when it comes to trying the local drink. A bar's special drink will relax you and give you a warming kick alongside a unique taste of that mountain culture. 
4. Get hold of your sunglasses
When you are stuffing the pockets of your ski jacket, don't forget to fill in a pair of sunglasses. While it may appear that you don't need to have one if you are skiing with the goggles when you set aside your skis in the afternoon you may wish for a change of eyewear.
Ski goggles are bulky and comfortable, especially when you are in a relaxed mood. So, when the music starts and you are enjoying your drink, slip out that branded, gorgeous sunglass you have been dying to show off!
5. Know where to go later
When the bar is about to close, some people are left behind because they are confused or careless about how to get home. While this is not the best situation in your life, make sure you stay within your limits.
Ending up in the wrong hotel or resort is dangerous and embarrassing. You need to know how you can return and plan accordingly.
Conclusion
Après-Ski is all about socializing and chilling with fellow skiers after a long day on the slopes. It is a great way to refuel your energy by engaging in laughter and beverage. So, pick your favorite place to spend the afternoon and make it a memorable one. The after-ski can be attended with the same clothes and look you had on the slopes earlier the same day.