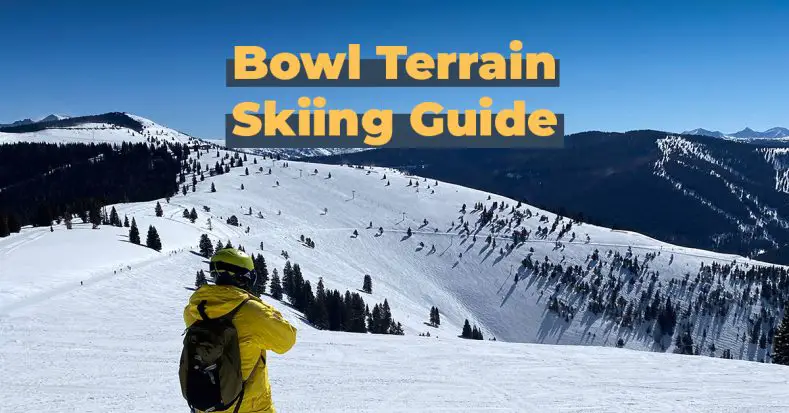 What is a Ski Bowl?
A ski bowl is an open expanse of an area that appears like a bowl-shaped depression off the side of a mountain. This configuration is made out of a broad, dish-like formation that extends all the way down to the foot of the mountain. Its gentle and sometimes steep sloping shape allows the skier to choose many paths or pistes when gliding down the slope.
A few look like half a bowl, while other resorts have this complete surrounding of mountains that lets you ski almost a 360-degree around right down to the center, but that's not so common. A ski bowl is an often natural formation of the mountains and slopes that both skiers and snowboarders look forward to skiing down. They would travel from far and wide just to experience that extraordinary rush only a ski bowl could offer.
It is indeed one of the most fun things you can do when you are out there pounding and carving the snow.
How to Ski in a Bowl
Before "dropping" into the Bowl, ensure that you are all set with protective clothing and have already taken all the necessary safety measures. While most marvel at the majestic sight of some really huge bowls, some may find it a little bit daunting.
Fortunately, most ski resorts are readily accessible for intermediate skiers and other higher levels. Make sure to choose a path with a difficult rating you are comfortable with.
Here are a few tips to make your bowl skiing easy, safe, and a fun glide down the mountain:
1. Ski when the skies are clear
When there are snowstorms or dark clouds, visibility can become low. It is no longer safe to be barreling down the slope when you can't see where it ends. Furthermore, mountain peaks and the whole view of the ranges are safest and best enjoyed on clear sunny days. In a ski bowl, there can be other skiers coming from different directions at high speeds.
2. Level up one at a time
If you are a beginner, work your way up from green runs to blue runs. Do it according to your current skill level. Then, from blue runs, you can level up to black. We recommend that you don't skip levels in your runs for safety reasons.
3. Glide into the bowl as a first-timer
Depending on the slope, you might see advanced skiers suddenly hop off from a peak and land onto the powder with gliding deft and skill that would make the green goblin greener with envy. However clever as it may look, we recommend that you, as a beginner, use flat slopes and other broad openings first when accessing the Bowl.
Or, if you insist on launching from the peak, you may slowly sit down on the edge, lower your skis and dangle it sideways. Then, gently push yourself off the peak, and off you go.
4. Practice one turn at a time
Familiarize yourself with executing turns one at a time. Start from the "snowplow turn" to the more advanced moves such as the "carve turn." Leveling up one at a time makes for easy and safe transitions.
5. Do quick stops and identify your next few turns
Once you are launched from the peak, you can do a few quick stops to roughly map out your next path, after that one long interval of skiing down the slope. Once again, make your way using long and wide turns as necessary.
6. Watch out for boulders and tree stumps
Even though the powdery snow seems smooth, rocks or stumps could hide along the path. Fortunately, in most ski resorts, these areas are marked anyway with signs, poles, or other indications for danger. Make stop now and then to scope out the site and see if there is a marked boulder in the middle of your run. Work your way to avoid it as you continue.
7. Assume a firm body posture and keep your balance
Keep your weight centered, lean forward, with your knees bent and your hands in front of you. This is the best position to be in when dealing with various snow conditions gliding down the bowl.
8. Get ready to go on a single file when approaching the bottom
Enjoy the vast expanse as much as you can, but expect to be directed into one or two files as you approach the bottom. Look around you for other skiers who might be coming in from all directions and make way to fall in line with them. Remember that the skiers below you always have the right of way.
Where to Find Skiing Bowls
Listed below are 4 resorts (among many) with famous skiing bowls:
Vail Ski Resort
The image at the beginning of this post is from Vail Ski Resort, CO. It's the third-largest single-mountain ski resort in the United States. Check out more at their website vail.com.
The Sugar Bowl Ski Resort
Being one of the few remaining privately-owned resorts in the Lake Tahoe area, Sugar Bowl is historically the first ski area in California to install a chairlift and the gondola. Situated in Placer County near Norden, California, this medium-sized resort is famous for its advanced terrain, high snowfall, and proximity to the San Francisco Bay area.
In 1999, the Sugar Bowl Academy (SBA) was established in the resort by former members of the U.S. Ski Team. Jim Hudson, Patricia Hellman Gibbs, and Barbara Sorba created a high school that was aimed at honing and training students for competitive skiing. The Academy produced skiers that would later become professionals that competed in international skiing competitions.
At best, the Sugar Bowl is about 17% beginner, 45% intermediate, and 38% advanced in all its available runs.
Telluride, CO
Telluride Ski Resort is listed among the top five destinations in SKI magazine's annual resort guide. It is largely popular among experts and advanced-level skiers who can take on the Black Iron Bowl, which contains all types of challenges that can improve their skills. Alternatively, the Revelation Bowl located at the rear of the resort works great for intermediate and advanced-intermediate skiers who'd likewise like to test out their powder skills.
Aspen Snowmass, CO
The Highland Bowl of Aspen Snowmass is an awesome treat for skiers looking to earn their views and turns. If you have the drive to do an uphill 25-45 minute hike to the peak, you will be rewarded with an incredible view of the 14,000- foot Maroon Bells and its many steep pitches and glades.
You can cut your hike to the top by half if you catch a free ride on a snowcat that takes hikers from Loge Meadow to the edge of the bowl at Whip's Veneration. It can add 1 or 2 more laps to your day if you are up for it. Best of all, enjoy the journey up and down the mountain, and don't forget to bring some drinking water with you.
Bowl Skiing Safety
Exciting as it is, skiing comes with its inherent risks. Understand that safety will always be your first consideration. Here are some tips to keep you safe while slaying the slopes:
Get Lessons
If you are a first-timer, you should take lessons first. After which, you will have your kids take them as well. Control is vital when navigating nature, and the best way to do it is by knowing the fundamentals.
Get to Know the Terrain
Feel free to ask the ski area management about the difficulty level of each slope. After identifying them, find out which ones are suitable for you and your kids.
Have a Back-Up Plan
If you get separated from your children for one reason or another, instruct them to ski to the bottom of a lift and have them ask an attendant for assistance.
Be on the Look Out for Warning Signs
Signs such as "out of bounds" mean off-limits, which could also mean "danger, do not enter." "Caution" or "Slow Skiing" could also mean crowded or collision-prone areas. Be alert and always be aware of other skiers who might be practicing with you.
Wear Appropriate Clothing and Safety Gear
Use the correct safety gear and clothing to keep you warm. Wear a well-fitting helmet. Use goggles and sunscreen to help prevent sunburn even on cloudy days.
Avalanches in Skiing Bowls
The thing about avalanches is that you will never know the level of risk that can occur on any mountain that you are on at any moment. If you are a beginner, it is always best to contact an experienced guide, on or off the hill.
Here are some facts to consider when it comes to avalanches:
There is an avalanche risk every time you leave the piste. The risk stays long even after the last snowfall.
According to case studies, most avalanches are caused by the skiers themselves
Sudden changes in wind and temperature are, more often than not, the cause of avalanches.
Final Thoughts
Going on a Ski adventure is challenging and rewarding at the same time. Always remember that with mother nature, conditions could sometimes quickly change. Dark clouds and a storm could suddenly roll into the bowl, making your run difficult.
Keep calm and slow down, use a proper ski that suits your type of skiing and terrain. Also, expect large mountain resort ski bowls to be ungroomed, so be prepared for anything along the way. In the meantime, enjoy the sunshine and the breathtaking views from the top as you have yourself a merry time gliding your way down.