Alpine skis are unisex, the technology will be the same for men's and women's skis. There will be some differences in the size, length, width, and flex. These differences can be considered depending on your size and skill level. Women skis sometimes have narrower waist due to men having wider feet. The graphics and weight sometimes differ on men's and women skis. Women can use men's skis and men can use women's skis without a problem, make sure the length, width, flex, and type of ski suits you. Then you can go on the skis graphics, which one you like the most when you are buying a pair of skis.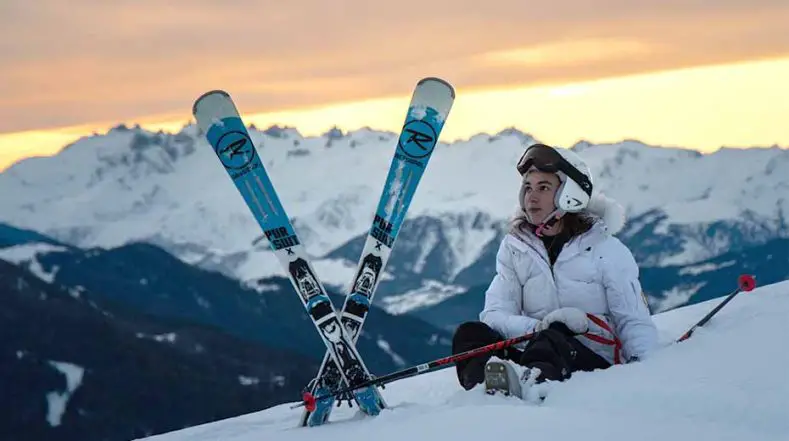 Are skis unisex? Do they have some major differences? Why should you invest in women skis? Many of us believe that there is only one difference between men and women skis and that is look. Women skis look more beautiful than men. There is no denying that you will not find much technical difference between men and women skis. More importantly, you might not find different varieties in women's skis. So, many women prefer to invest in a unisex ski instead of considering the one that is specifically designed for women.
When it comes to the difference, you can experience differences in the size, weight, length, and mounting position. All these differences are understandable since the feet of men are longer, stronger, and wider than women. The unisex skis are designed to fit both men and women. However, the women skis are made keeping women in mind. Therefore, you can expect a lightweight and soft ski if you buy the one specially made for women. Also, women skis have around twenty percent softer flex.
In brief, you can say that you do not need women skis to enjoy your adventure. But if you have one, you can find them easier beneath your feet. Let's discuss more women and men skis. The following article will focus on differences and similarities so that can you can decide with a well-informed mind.
Weight
Women skis are a bit lightweight than men. But this feature might not matter much especially when you are planning an adventure. Instead of investing in lightweight skis, you would certainly like the one that will support you while exploring some natural beauties. The women skis are twenty percent lighter than men and that might be a good option especially when you are inexperienced. Also, the lightweight skis can help to cross the slopes without any difficulty. When it comes to weight, it is about the material only. You will not notice any difference in the design and the technique.
Length
You might notice some other differences as well. One of them is the length. The specific women skis are a bit narrower than men. Also, the size makes the ski lighter than men. Women skis do not demand a lot of floats. These are designed to support less weight and strength. The beginners can find it much easier to carve while using women skis. If someone has smaller feet, and less experienced, they can consider the one that is specifically designed for women. The reason is that women skis are lightweight and do not demand much effort and strength to control and move easily in the snow. However, if you are experienced, you do not need to buy a specific woman ski as the technology will be the same in both options. Your skill level will decide the type of skis you need for your adventure.
Width
When the length will be less, the width will be short as well. If you are planning to buy small skis for your small feet, you can go with women skis. The key is the size of your feet and your skills level. For example, if you have large feet, you should not go with a women-specific ski. You will not get the required stability. The skis' length and wide will play an important role to decide your performance. If it is a bit longer or shorter, you will not be able to perform your best. So, instead of thinking of women or men skis, you should go with the one that fits well to your feet.
Also, the experience level will have the deciding role. The advanced skiers will need longer designs to support their adventure. On the contrary, if you would love going slow and make many turns, then go with shorter ones. You can make it simple. You can start with women skis and when you will be confident, you can try the bigger ones.
All the women are not the same so their ski preferences. Therefore, you should not rely on your friend's skis. Instead, you can try different lengths to find the best length depending on your feet. Before investing in any, you must check the length regardless of the types you are buying.
Flex
If you have ever compared men and women skis, you might have noticed that men skis are stiffer than their female counterparts. The women skis feature an additional flex to ensure that the ski can easily flex into the snow without putting much pressure. More flex means more control by the user. Even if you are not thoroughly experienced, you can make turns easily. Here again, this feature can be helpful for intermediate skiers.
More flex gives a better ability to take turns. Your ski can quickly transfer the weight from one foot to another. Depending on the design, the flex will vary slightly. You can expect around twenty percent more flex in women skis than men. Also, you can adjust the flex to match the mounting position. The additional flex will be distributed on the front and that will give more stability on terrains and skiing steeps.
Mounting Position
While buying skis, your focus should be on the mounting position in addition to the length and width. The mounting position plays an important role to decide your performance. If you buy ski specifically designed for women, you will notice that the mounting position can be moved a few centimeters forward. Even if you check the same size of men and women skis, you can notice the difference. The mounting position will enable women to engage and enjoy their adventure. Also, it is helpful for gravity.
The center of gravity of women is one inch lower compared to men. The physic of women will have a role. In the lower part of the body around the waist, women carry more weight. However, men carry more weight above their waist. Men have a broader chest and shoulder. This difference is the key reason behind the forward position of women skis.
Also, the more forward mounting position can be helpful for easy skiing for beginners regardless of the type of skis. They can easily take turns and enjoy their skiing without much skill and experience. Both men and women can be benefited from this feature when they are just learning skiing.
Ski Graphic
Yes, you will certainly notice the difference in graphics if you compare men and women skis. The women will have more impressive and feminine graphics. However, if you choose men skis, you might find more adventurous graphics. This is not going to make much difference. Even if you are a man and you like feminine graphics, you should not restrict yourself from using that ski. The same is about women.
Women also like adventure and want to explore the world. If you are one of them, you should not hesitate to try graphics designed for men. Your personal preference is going to play a role here. Your skill level and height are not going to be influenced by the graphic.
Underfoot Size
The underfoot size of men and women skis will vary. When it is specifically designed for women, the underfoot size will be less since the feet size of women is less than men. Your feet size will decide the underfoot size. If you have small feet, you can consider buying women skis. When the size is large, you can go with men skis. You can decide without bothering much about specifically designed women's size. You need the right size to perform your best.
Should You Buy Women Skis?
Now you know the differences between men and women skis. So, you will have to ask yourself: do you need a woman ski? Needless to mention women have been using men skis for so many years. Advanced skiers prefer men or unisex skis over women. If you are a beginner and you just want to hone your skill, you can go with a lightweight ski. A woman ski is lightweight and can meet your demands. In brief, you can say that you can decide depending on your weight, size, preference, strength, and skill levels. Also, you can find many unisex skis. They are available in a wide range of flexes and mounting positions. You can consider this option.
Bottom Line
Skis are unisex. The technology will be the same. There will be some differences in the size, length, width, and flex. These differences can be considered depending on your size and skill level. If you are a woman and an experienced skier, you can buy a men ski. It will help you to boost your skill and enjoy your adventure. The same is about men. If they are beginners, they can consider lightweight women skis. But make sure that you are wearing the right pair of boots. Men will need large size of boots due to their wider feet.