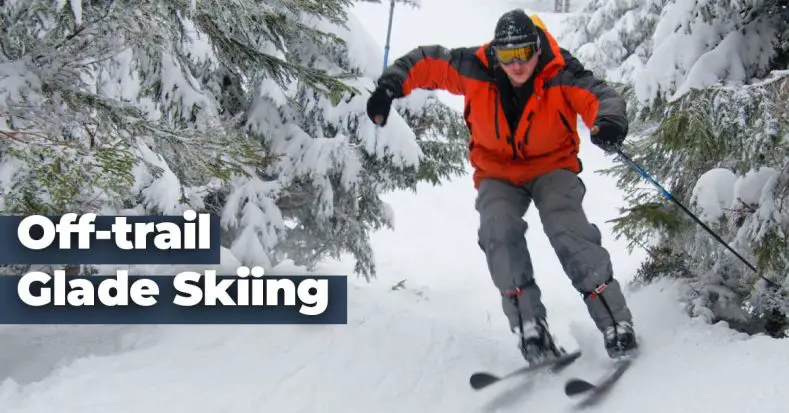 According to many, the most exciting element and the best part of skiing down through fresh powder is when you enter the tree zone and weave between them. This is what glade skiing is all about.
While skiing glades is exhilarating, it requires a high level of skiing ability, concentration, and knowing how to stay safe. So, look between the trees and not at them while maneuvering. Moreover, ski with a friend and try to go slow until your confidence levels are high.
When it comes to learning a new adventure, a few tips always come in handy. These tips help you to ski off-piste with confidence.
What is glade skiing?
After you get accustomed to running downhill with wide-open slopes, you may have noticed the trees line by the side of the trail. So, what is glade skiing? Typically, it refers to skiing through the trees on a pre-made trial. 
The wood trails run through the trees left by the previous skier. As such, the track leads your path. You can find glade skiing in the forest between runs. Moreover, larger ski resorts have glades on their location. 
The areas where you find glades are empty places and it gives you the feeling of a fairy tale. And, this is because of the softness of the snow, the presence of animals, or mystical light. When all these elements combine, it gives you a rewarding and beautiful experience when you cross between these spaces. 
To make an effective run through the woods, you have to maneuver your ski because there are no established tracks. Hence, you must know how to pass through them to enjoy the beautiful views. Moreover, get hold of some useful tips to make the experience fun and easy. 
Is glade skiing dangerous?
There is no denying that glade skiing is a dangerous practice. And, you must know the risks before glading through the forest and take correct precautions. One of the dangerous situations that you face is getting trapped in a tree well, popularly called spruce trap. 
It happens when the snow leaves a space under a tree between the dispersed branches. As such, it creates an empty sir spot that remains buried and isn't visible from a distance. So, when you fall into the spruce trap, you won't find it easy to come out of it without anyone's help.
Another dangerous thing while glade skiing is crashing into the trees. While the situation isn't fun, it is a good thing to remember. Moreover, some dangerous accidents occur when you collide with trees. As such, it leads to serious injuries. 
Hence, it is important to keep certain things in your mind to reduce any chances of unfortunate events. Always keep in mind the condition of the snow. If you are new to skiing off-piste and you try glade skiing after five days of continuous snowing, chances of an accident increases.
Skiing glades require good practice beforehand. So, it is wise to have prior knowledge so that you can avoid crashing into trees. Ensure that you understand the parallel technique. And, the best way is to learn skiing in open spaces that have soft snow. That way, there are no chances of falling against the hard snow or crashing into the trees. 
It is a good thing to consider the snow conditions. If you have a bit of experience with piste skiing, it is wise to check the condition of the snow. When you find more powder-like snow, the more technique you need. In short, you need more preparation. So, ensure that the snow has settled to make it suitable to ski on.
Having wider skis is important before making up your mind to jump into the forest. Hence, take into consideration the type of material used in the ski. In general, the skis that are perfect for powder snow are much wider. As a result, it helps you float in the snow. 
In a nutshell, if you are aware of the condition of the snow, have requisite training on an open field, and have the right skis, glade skiing won't appear dangerous to you. 
Useful equipment when glades skiing
If you are a new skier and rely on rental stores to sort things out, you might wonder about useful equipment when glades skiing. So, here is some equipment that is necessary when skiing glades. 
Helmets – Safety equipment is what more and more skiers are opting for these days. And, the first one in this list consists of helmets. Wearing a helmet is the best thing that you can do when glade skiing. It is unwise to go out in the wilderness and maneuver steps without a helmet. It is a no-brainer why you need a helmet when skiing. 
Back protection – Modern back protectors are giving good protection for your back in case of a fall. They are very comfortable to wear and are a good investment in your safety. I always wear my Salomon back protection when skiing, even when I'm only skiing on the piste. It feels a lot better to wear than I thought before I bought it.
Wide skis – It is important that you need wide skis while tree skiing. It helps you a lot when you are on soft snow. In short, it makes you float as you pass through the trees. However, when choosing a wide ski, you should consider a few factors. These include your skiing style, ability level, and your physique. 
Clothing – In general, clothing consists of wearing base layers and outerwear. Base layer clothing should be breathable enough. If they are not, sweating can make you feel irritating. Also, wearing comfortable socks is important as well. Outerwear keeps you dry, warm, and comfortable. Waterproof and breathable jackets and pants protect your back to a great extent. 
How to ski glades
Glade skiing is fun and considered mystical by many skiers. When you make an entry to a glade, you are in a different world. The lights appear to diffuse and the sounds seem to fade away. Moreover, you need to play along with nature's course. 
And, you will get fine snow to get going. Like many skiers, you may have to budge around the trees for a few years. And, follow the trails left by the experts. So, the more you follow them, the more you will enjoy making drastic turns in the woods with fewer efforts. 
While you may not get the right confidence, in the beginning, things will sort out eventually. And, when you keep in mind the useful tips for glade skiing, you will enjoy every bit of it. 
Tips when skiing the glades
Because it is not easy to see through the line of trees, here are some tips when skiing the glades.
Practice short turns on an open slope – When you are around trees, you need to make short turns until you reach the bottom. While it seems like a basic concept, it involves techniques and skills. And, you should learn that. 
Keep in mind that you won't find enough open space to do a single wide turn. Hence, you can't afford to slack off. You need to do short turns until you find a clear slope again. 
Get your eye fixed straight and not on the trees – While it seems to be the obvious choice, many skiers have slammed themselves on a tree ahead. That's because they have panicked and focused on the tree ahead of them. When you hit a tree with force, the results could be devastating. 
You have to keep your head up, calculate the gaps and monitor your movement through the trees. If you focus more on the tree ahead, it might magnetize you. And, it is a situation that nobody wants. Moreover, when your eyes are observing the gaps, the body acts accordingly and you come of the woods without injuries. 
Try to keep your arms forward – Literally, you have to be on your toes when skiing glades. When you are poised in a stance with your arms in front of you, it gets quick on your reflexes. As such, your muscle memory will react as it should be.
When you execute more constrained and different turns around the trees, it helps you to get new movements. And, your hands help you to maintain a tight balance. That way, it leads you through the spaces between trees. 
Take it slow – Commonly, skiers get stressed, anxious, and panic before heading to a serious glade skiing run. However, the situation can be avoided when you take a few deep breaths. Even if you are a competent and confident rider, you may feel the heat.
All you need to do is relax and slow it down. Keep in mind that you have the confidence and know what to do. Your reactions to the situation should be positive to get you through. 
Have fun – Remember that you are on the slopes to have fun. Glade skiing is an exhilarating aspect of snowboarding and skiing. Moreover, the rush of maneuvering through the trees is a great experience. It is all about timing. So, if you are not confident, it is better not to rush into things and make matter worse.
Conclusion
So, that was all about glade skiing and useful tips to make your experience even better. It is time for you to explore the wood trails and enjoy the adventure, tranquility, and scenery that glade skiing provides you with.