Last updated on November 9th, 2021 at 03:59 pm
When you are going skiing, you may choose one of several options for renting ski gear. The easiest way is to rent an equipment package at one of the local ski shops. Such a package includes everything needed for skiing. Also, when renting locally, you can get your gear quickly without waiting in long lines at the resort ski shop.
Still, you can also rent the needed equipment at the resort, but it is usually more expensive. And the most convenient way is renting ski gear online by using a rental delivery service. So you will have your equipment delivered to your hotel.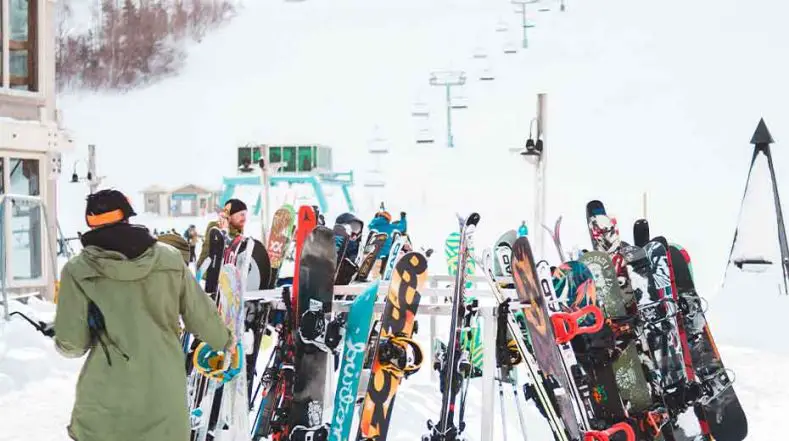 It doesn't make sense to buy quite expensive ski equipment if you are a beginning skier who has never skied before. You can invest in quality ski gear if you are sure that you like this activity, and you want to spend many hours on the slopes. Until then, it will be better to rent the needed equipment at the ski rental. But how do they work? What do you need to know? What equipment to rent? Let's find the answers to these questions.
What do ski rental include?
The typical rental package includes poles, boots, and skis. Most often, customers can choose from beginner or performance skis. For younger skiers, ski rental has special junior packages. For an additional charge (usually $10), you may also get a helmet. You should always wear a helmet when skiing, so rent a helmet if you do not have your own one.
Also, when signing up for a ski lesson program, check whether its package includes the ski equipment to use all day. Otherwise, you will have to rent it separately. But usually, they provide you with everything you need for skiing.
Typical ski gear available to rent includes:
Boots
Poles
Skis
Helmet
Ski clothing (at some resorts)
However, you need to always check with the chosen rental shop what options are available to rent. Moreover, most of such shops have a website where you can find the needed information, as well as limited offers or equipment packages. They often have family and group discounts available. So contacting them will be an excellent way to save money.
Are rental skis any good?
The quality of the rented equipment may vary considerably depending on the shop you visit and its prices. Most often, the ski shop offers you an extensive range of ski equipment of different quality, but its rental price also varies significantly. The more ski equipment costs, the better is its quality.
Still, when it comes to such ski equipment as ski boots, it will be better to buy yourself a pair. They will be much more comfortable and personalized to you than the boots from the ski shop.
Do ski rental shops also sell lift passes or lessons?
Many ski rental shops are affiliated with the ski resort itself. So you may buy a day ski package there. It usually includes not only ski equipment, but also lift tickets and lessons for beginners. However, if it is an independent shop, then you will not buy such a package there.
Do lift tickets include ski rental?
Most often, lift tickets do not include ski rental. But you can easily find the prices and book the needed equipment on the resort's website. However, you can find some all-inclusive deals, which may include not only lift tickets and ski rental but also a few hot drinks in the resort's bar.
What are ski equipment requirements?
Personal Equipment is welcome at most ski resorts. Nevertheless, it has to meet device guidelines. The list of allowed equipment includes Snowboards, Skis, Monoskis, Telemark Skis, Snowskates, Snowblades.
Moreover, it must have metal edges and devices to prevent runaway equipment such as bindings with brakes, straps, or leashes. And if your ski gear doesn't comply with current rules and standards, it will be better to visit a ski shop to rent the appropriate equipment.
Do ski resorts rent clothing?
Like any other part of ski equipment, ski clothing is quite expensive. So many beginning skiers wonder if they can rent it. The answer is yes; they can. But let's check what are the pros and cons of ski clothes rental.
Pros
Convenience
When it comes to renting ski clothes, convenience is a big advantage. It doesn't matter where you are going to ski, as there are options for skiing at the ski resort, a backcountry, and the cross-country trail. You can rent ski clothes both from your ski resort or one of many local shops.
However, be ready for long lines if you choose to rent them from the resort. Many online ski rental services also offer dozens of ski jackets, pants, gloves, and googles. But in a case with ski clothes, you must be sure to choose the correct size, so it is easier to do it on-site.
Great for Beginners
If you are beginning skier or you do not ski often, renting ski clothes is the best option for you. You can plan out how long you want to ski and book the needed clothes for that time. But if you want to spend many days skiing each season, this option can cost you more than buying the ski clothes.
Less Money Upfront
Still, many high-quality package deals are quite cheap. So you can often rent the top class ski clothes for less than $30 per day. It allows you to save on your ski trip and spend more for hot drinks or post-ski treats.
Cons
Limited Choice
Although ski shops rent high-quality ski clothes, the styles and colors to choose from are usually basic. You will not express your individuality in a gray jacket. So if bright colors or unusual designs are important to you, you will need to consider purchasing ski gear. Also, do not forget that those ski clothes have been previously worn. So be ready that the jacket or pants can be not beautiful or shiny.
Costs More in the Long Run
Renting makes sense if you are planning to go skiing one or two times in a season. However, if you want to spend a few weeks there, the rental costs will add up quickly. Ski clothes are quite durable and last many years, so you may want to consider purchasing them.
Should you rent skis or bring your own?
To make your skiing experience more enjoyable, you need to take care of some logistics before leaving. Skiing with your own equipment may be more comfortable, but traveling with all this gear can be expensive and problematic. Before deciding whether to travel with your own skis or rent ski equipment, you should consider the factors described below.
Renting skis – pricing
You can rent all the necessary ski equipment at any ski resort, and their prices are quite affordable. The price for renting skiing equipment one day rarely exceeds $40-$50 a day, but the prices vary depending on the resort and how advanced gear you need. So it will not be a problem for those who go skiing only a few days in the season.
Still, if you are planning to have a long ski trip, ski rentals can become quite expensive. Nevertheless, you will get a discount if you are renting for an extended period.
Bringing your own skis
It often seems that you can save a lot of money by bringing your own skis. However, it is true only if the ski resort is close to your home. But if you need to take a flight to get there, the cost of bringing your skis rises significantly.
Airline baggage fees are often higher than the ticket price itself. Many passengers have to pay up to $100 for the oversize equipment like the ski bag. Still, you can use a luggage service to ship your skis to your hotel and avoid the airline fees. But you have to do it at least two weeks in advance.
Ski equipment for kids
When it comes to skiing with your kids, renting ski equipment will be the best plan. Do not forget that children grow fast, so you will have to update their ski gear every year, as it will be too small.
Moreover, you will spend a lot of money on their equipment, but they may not like skiing. So it is best to give your kids some time, so they will tell you whether they like this sport or not. Also, ski gear must fit properly, and rentals always fit.
However, if you have two or more kids, buying ski equipment can be a better option, as you can hand it down to younger siblings.
If you have found a ski school for your children, check out if it includes rentals, as it will make your life easier. You will not have to buy ski gear and bring it every time they go to school.
Conclusion
As you see, buying ski equipment doesn't make sense if you are beginning skier who skies several times a year. It will be more convenient for you to rent all the needed gear. Moreover, it doesn't cost much, and its quality is quite good.
But you should consider purchasing your own ski equipment if you are planning to spend many days skiing. It will be more personalized to you, and you may choose its color and design.