Quality ski boots can last for 200 ski days or sometimes even longer. If you take good care of your boots you can use them a long time, and you can replace worn out pars like the soles, liners and buckles. Have your ski boots buckled when not in use off season, to make the boots keep their shape.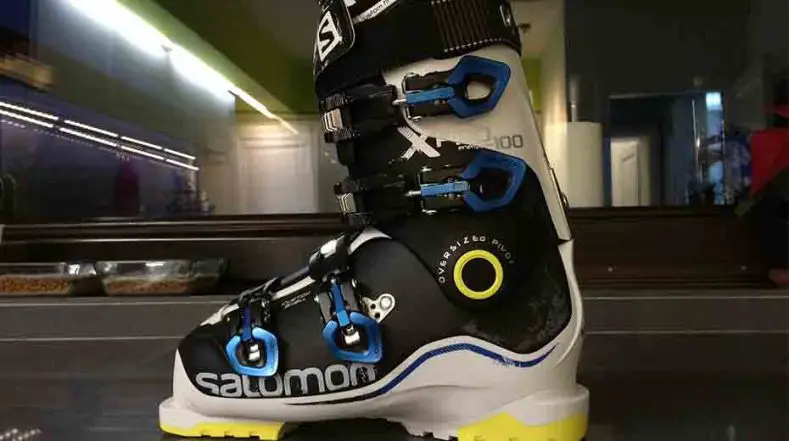 So, you want to know when to replace your ski boots. Also, you are interested to boost longevity and performance. Many things will depend on the maintenance and quality of the boots. If you will invest in good quality, these are going to last more. However, you will have to focus on regular upkeep to even get a better outcome. In this article, we will answer all your queries related to ski boots replacement. Also, you will be aware of a few basics that you can follow to get the best out of your investment.
Ski Boots: Replacement & maintenance requirements
Current Ski boots are designed to last long. If you use them in the right way, they can last even more than a decade. But some damages can affect the performance significantly even if the boot is not a few years old. The wear and tear on some parts like soles can affect longevity and comfort. Also, when the structural integrity will be affected, you will not be able to perform your best. The same is about the liner. When it feels uncomfortable, you should think of a replacement of your liners.
Soles
The soles are meant to offer you the required comfort during skiing. These shoes are designed keeping comfort and safety in mind. The soles play an essential role to protect feet during the adventure. Ski bindings are made to hold the boots firmly. But when the soles are not in the best condition, you will feel a bit uncomfortable.
It might be risky as well. Therefore, you should always check the outer of soles before skiing to make it safe and fun. Also, you need to ensure proper usage to boost functionality and durability.
For example, if you use ski boosts on hard and rough surfaces, then soles will not offer the desired usability. Needless to mention, these are not designed for hard surfaces. So, make it a point to use for skiing only. You should avoid using your ski boots on hills and the Rocky Mountains. Also, now some ski boots are well-designed and replaceable. You can replace the toe parts to boost longevity. This is possible when only soles and similar parts are deteriorated.
Inner liners
The inner liners can affect the performance of your ski boots. These parts wear first than other constructions. However, these are not meant to protect the feet of users. These are incorporated to offer the required insulation to your feet and to make your feel comfortable. So, if you find that your liners are not in good condition, you can replace them to bring back the comfort of your boots.
The inner liners are not taken seriously since it does not affect much the performance. However, when the comfort will be compromised, you will not be in the best mood. Also, when the inner liners are damaged completely, they might stick to your socks and make you feel very uncomfortable. When it is not possible to change the inner liner, you can think of replacing the shoes.
There are many ways to boost the durability of inner liners. If you buy a quality pair of shoes, the durability will be guaranteed. Also, advanced shoes will be well-designed. Most of them will allow you to change inner liners whenever required without investing in a pair of shoes. Also, you can remove the footbeds and liners after skiing to ensure proper dry up. If you prefer skiing regularly, you can also consider investing in a boot dryer. It can effectively dry up your ski boots. Avoid using hair dryers for drying up your ski boots. These methods can affect the fit and longevity of your boot.
Shell modification
The shell is the determining factor to decide the safety and comfort of your feet. If you buy low-quality and local shoes, then the quality will be compromised. The shell will start to deteriorate within a few weeks. The shell of quality shoes will last more than a couple of months even if you use them regularly. However, you can ensure a durable result by keeping boots buckled when not in use.
By doing so, you can protect the plastic from the deterioration. Also, you need to store your boots in dry and cold places to use them for a long time. Just keep your boots near the heater for an hour or two to make them warm before skiing. These simple practices can enable you to use boots for a longer time.
---
Now you know how to maintain soles and liners that will ultimately enable you to use your ski boosts for the intended period. You cannot avoid regular wear and tear. But you can minimize the impact with some good practices. In addition to essential parts, the technology of your shoes will have a role to decide the performance. Let's know more about the technology so that you can make a smart decision by investing in an advanced product.
How does ski technology affect longevity
In the current condition, you can expect many advanced technologies. These shoes are now more comfortable, durable, ergonomic, and contoured. Many of these shoes are developed to be waterproof as well as weatherproof. Both these features will not only offer a durable result, but they will enable you to enjoy your adventure without bothering much about the environment. Also, manufacturers are now using quality materials. You can take the example of plastic. Currently, they are using flexible and quality plastic, and that ultimately prevents fast deterioration.
In the last couple of decades, ski boots have gone through some major improvements. The design and structure are worth mentioning. The design is comfortable, user-friendly, breathable, and easy to wear. Durability is an added benefit. The best thing about modern ski boots is that many parts can be replaced.
Users can change almost all the parts that include buckles, liners, and soles. When you will be able to change all these parts, you do not need to replace your shoes when only a single part is damaged. This will offer you a less expensive solution and you do not need to be familiar with a new shoe always as well.
These replaceable parts are easily available. You can buy and replace them on your own without any skills. By replacing the parts of a pair of quality ski boots, you can use them for around five seasons. The key is the right investment. Even if you are going to spend more, you should never compromise quality since quality products are designed to offer long-term benefits. For poor quality products, you might need to spend more upfront. But the end cost will be more since you are going to replace your ski boots more frequently. You might need to replace it after every season.
How to boost the longevity of your ski boots
As stated earlier, you just need to focus on some basic maintenance to use your shoes for a long time. To help you more, here are a few details.
Make sure that your shoe is stored in a clean and dry environment.
Always use clean and dry socks. Dirt and moisture in socks are going to affect your boots. Also, these are detrimental to your feet's health.
Start your adventure with a dry and clean foot and wear the boots when you are fully ready.
Avoid using your shoes on the shovels and hills. These conditions might affect the integrity of shoes.
You should not use cotton socks while wearing ski boots. Cotton socks will trap moisture. Keep extra pair so that you can change the socks whenever you notice any moisture.
Socks should be free of wrinkles since wrinkles can cause some pressure points.
Avoid leaving your shoes in the car overnight.
Dry your boots after every use
Buckle up your shoe when not in use.
Clean and dry up the liners, shells, and footbeds after every use.
You should always avoid dirt and moisture. When these are combined, your shoes will start deteriorating fast. Also, replace the soles and liners of your shoe instead of considering a boot replacement. These simple replacements can serve the same purpose. So, there is no need to spend a huge when it is not needed.
How long will your boots last
When it comes to durability, the quality will be the key deciding factor. You just need to check a few signs to know when the replacement is due. If the boots' toe is damaged and the bindings are not in good condition, you can think of the replacement. If the bindings are unable to hold your boot, you will be left with no other choice except replacement. These conditions might warrant a replacement. However, you can use your experience to consider the replacement as well. If you find that the sole and liner replacements are not helping much to get the desired comfort and performance, you should certainly go with the replacement. None can judge the condition better than you especially when you are thoroughly experienced in skiing. Comfort and safety should be always your priority.