You will find a sign with the ski slope rating symbol at the top of every ski run. But have you ever wondered what do these green, blue, red, or black markings mean? They correspond to ski slope difficulty levels, so it will be a great idea to learn more about them before you enter the slopes.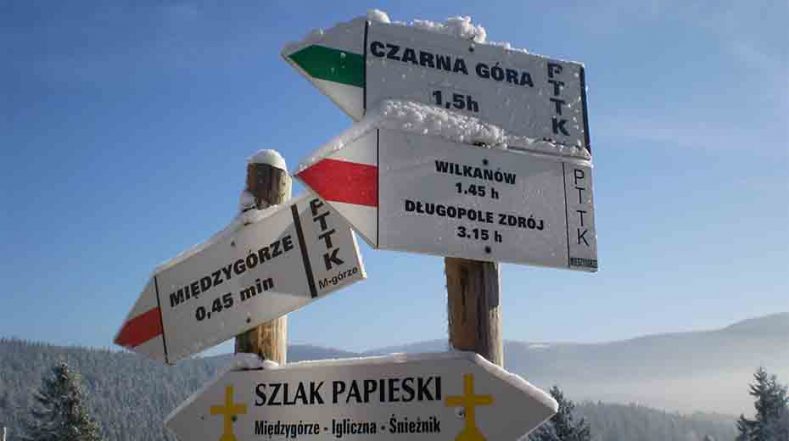 A Little History
In 1965, the US National Ski Area's Association first approved the trail marking system. However, the used colors conflicted with those implemented in Europe. They were also different than the colors which American skiers use today. For example, the French resorts used red to designate intermediate trails, and the Americans used yellow.
Still, three years later, in 1968, the Walt Disney Company tried to build a ski resort and conducted researches to determine which colors work best. As a consequence, the NSAA adjusted their system according to the results of Disney's tests, which were as follows:
⬤

Green circle trails are the easiest runs;
■ Blue square tracks are for intermediate skiers;
⯁ Black diamond trails are only for advanced skiers;
⯁⯁ Double black diamond trails are exclusively for experts. The entrance is prohibited for beginning skiers.
What determines ski slope difficulty?
Several significant factors determine the ski slope difficulty. Ski resorts usually take into consideration the following circumstances:
the terrain roughness;
sharpest turns;
the width of the trail;
ski trail grooming schedule;
the steepness of the ski trail.
When it comes to American resorts, the trail steepness measured by grade (in %) instead of degree angle is the decisive factor when determining the ski slope difficulty. When assigning a ski trail difficulty rating, the ski resort compares it with other trails available there.
Usually, green circle slopes (for beginners) are between 5% and 25%. Blue square slopes (intermediate difficulty level) are between 25% and 40%. Black diamond slopes (for experts) are 40% and more. Still, the slope gradient is not the only determinant of the trail difficulty level.
In Europe, the slope angle is not as important as in North America. If a lower slope requires better skiing ability than a steeper one, Alpine slope classification may classify it as more difficult. For example, if a lower slope is narrower, features rocks or off-camber slope angles, or requires controlling speed through sharp turns or carrying speed through flatter sections, it may be more difficult than a steeper slope without these restrictions.
Who decides the ski slope levels?
Signs of different colors and shapes are the primary way the ski resorts state their ski trail ratings. Nevertheless, the classification scheme used by ski resorts in different parts of the world can vary significantly. Even within one country, there is high variability in what constitutes a black or blue trail.
So, who decides the ski slope levels? Usually, the ski resorts assign the ski slope levels on their own. For this reason, the blues or greens do not always mean the same. Moreover, the difficulty of the ski trail can change dramatically as the surface ices over or the powder piles up.
In the US, the National Ski Patrol and National Ski Areas Association recommend the local ski resorts to use the trail steepness for determining its difficulty. As was mentioned above, green slopes are less than 25% grade, the grade of blue trails is between 25% and 40%, and the black slopes may be steeper than 40% grade.
Moreover, some US resorts may also use other symbols and signs to classify their trails. For example, the Winter Park resort located in Colorado uses a composite symbol – a blue square that surrounds the black diamond – to mark the terrain as advanced intermediate.
In Europe, the authority that decides the ski slope levels is the German Skiing Association (DSV). Their recommendations on determining the ski trails' difficulty and dividing them into three basic color groups have been integrated into the Austrian NORM S 4610 f and German DIN 32912 national standards.
Ski slope markings in North American
⬤

Green circle: Beginner slope.
Green circle slopes are perfect for those who have never skied before and for beginning skiers. Intermediate or professional skiers may not feel excited, as they will not be able to make many turns or achieve the high speed on these slopes.
■

Blue square: Intermediate slope.
Blue square slopes are a bit steeper, and the terrain is more varied. They are good for those who have some experience as well as for experts who want to improve their skills at low speed.
⯁ Black diamond: Expert slope.
The black diamond slope can be a steep piste or a mogul run. Usually, ski resorts recommend avoiding these trails if you are not confident in your skiing skills.
⯁⯁ Double black diamond: Experts only.
Stay away from the double black diamond slopes if you have not mastered the standard black diamond before. These trails may have a narrow couloir or be very steep.
▬

Orange rectangle: Terrain park.
The terrain park marked with the orange rectangle is the place for those who want to do some tricks or jumps.
Ski slope markings in Europe
European green slopes are very wide and flat. They are excellent for beginners and kids.
European blue slopes are equivalent to American green circle ones. So you may not find green slopes in Switzerland or Austria, as the blues are for beginners there!
■

Red: Intermediate slope.
In Europe, ski resorts use an extra color to mark the intermediate slopes. Red trails are great for skiers who want to improve their skills.
Black slopes may range from a typical expert trail like the US one to a super-tough slope. Still, there usually are some extra signs if the trail is especially dangerous.
■

Orange: Extremely difficult.
You may find these extremely difficult orange slopes only in a few European countries like Switzerland or Austria. But it will be better to stay away from them if you are not an Olympic skier.
Yellow slopes are often ungroomed or uncontrolled off-piste areas. In Austria, ski resorts may also use orange squares to mark these trails.
Ski slope markings in Japan
Japanese ski resorts use the color-coded system, and the signs' shapes do not matter there. However, the colors vary significantly, as some resorts for foreigners use the European or North American color scheme. The usual colors are as follows:
■

Green: Beginner slopes.
Although some Japanese green slopes follow routes down from the top, most of them are usually near the mountain's base.
■

Red: Intermediate slopes.
Red slopes make up the majority of ski slopes in Japan. They are perfect for intermediate skiers.
Black signs are used to mark the steepest slopes, located in the most difficult ski areas.
It is almost impossible to compare Japanese slope classification with the North American or European systems, as there are more than 1,000 ski areas in Japan. And all of them use different signs and rules.
You can find more information at https://en.wikipedia.org/wiki/Piste.
What do the colors mean on ski slopes?
Green Trails or Beginner Slopes
As you already know, ski resorts use green signs to mark wide, shallow runs for beginners. The grade of these slopes is less than 25%. Green trails are the place for new skiers to start. There is plenty of open space and room to play, learn, and fall. Green slopes are a large flat or shallow areas for the first-day skiers and kids.
A flat standing lift or travelator are great places to start your first ski run. Next, when you feel confident enough, you can upgrade to the chairlift. It allows you to reach the top of the green slope. Do not be afraid of using it.
Most green slopes lifts do not move fast, so you can learn how to get on and off quickly. Moreover, beginner lifts' staff understands that you have probably never seen such a machine before, so the resort workers are ready to help you at any moment.
Usually, beginning skiers spend the first few days on the green slopes learning to turn and maintain the balance. Be careful with the skiers approaching from the top and do not make sudden movements. They will ski around you easily, so there is no need to panic.
Blue Trails or Intermediate Slopes.
Blue trails have a gradient range of 25-40%, and they are considered intermediate slopes. Once you have learned to look ahead, avoid other skiers, and turn left and right, you may move to the blue slope.
In North America (US and Canadian resorts), look for a blue square. In Europe, blue circles are more common. Be ready that you will have less time to take on and off, as the lifts run much faster there.
Keep your skis together when coming off the lift. Also, do not snowplow off as you may trip up any skiers or snowboarders either side of you. Do not stop on the top unless you are five meters or more away from the chairlift.
On these trails, skiers are more advanced, so they move much faster. Also, the blue slopes are steeper than the green ones, so you may need some time to get used to them. Never stop in the middle of the ski trail and avoid stopping in places where oncoming skiers cannot see you.
Red Trails or Advanced-Intermediate Slopes.
Red trails have a steep gradient for advanced-intermediate skiers. You will find them everywhere except North American ski resorts. The US and Canadian equivalents of red slopes are a shallow section on a black diamond slope or a steep section on a blue slope.
These trails are great for confident skiers who have some experience, can control their speed on steep slopes, and can link their turns quickly. Some parts of the red slopes can be narrow or twisted, and they often have quite difficult bumpy terrain. They are not for new skiers.
Black Trails or Expert Slopes.
The gradient range of black slopes exceeds 40%, so only experts should ski there. Due to their steepness, black slopes are designed exclusively for experienced skiers who ski at the top level.
Moreover, professional skiers in North America can try themselves on the double black diamond slopes – the most difficult skiing trails. They include extreme moguls, 'off-piste', and many other highly challenging situations.
Before moving up to black slopes, you need to get confident in blue and red runs. They can be extremely dangerous for beginners and new skiers, and the risk of getting injured is very high.
What is the steepest ski slope in Europe?
The Harakiri Slope in Mayrhofen, Austria, is the steepest ski slope in Austria and, probably, in entire Europe. It is an exceptional option for those skiers who are bored with red and black slopes.
The average gradient of this piste is 78% (38 degrees), and it is sharp (the vertical drop of 375m) and short (1,500 m long). Its name, which means the ritual suicide by samurai in Japanese, should warn all skiers about the slope's danger.
A slip or fall can result in severe injuries or even death. Moreover, there is another danger – other skiers falling on you. This north-facing slope is often icy and hard-packed, making skiing there even more dangerous.
Which color indicates the hardest slope in skiing?
The slope classification system varies greatly from country to country. Nevertheless, in any part of the planet, the black color indicates the hardest slope. It may be a black circle (Europe and Japan) or a black diamond (North America). Unless you are professional skier, it will be better to stay away from these slopes.
Conclusion
Now you know what all these signs and markings mean. Always check the color of the slope before descending. You need to be sure that your skiing level is high enough for the chosen trail.
Even if the slope level is appropriate for you, remember that the different snow conditions may make the same run more challenging. You will ski slower over fresh powder whilst long icy patches can create many problems even for professional skiers.
So, stay safe and enjoy skiing!