Every skier dreams of a new ski season with its free concerts, holiday festivities, après parties, and new terrain or lifts opening. Moreover, it is also an excellent opportunity to learn more about Mountain Etiquette. It is the needed knowledge, which all skiers obtain with their years of experience.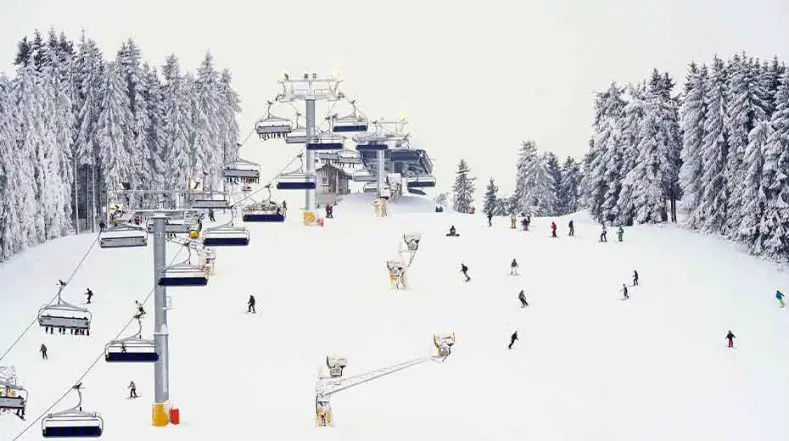 Mountain Etiquette combines mindful diplomacy and anger management, allowing you and other skiers to control the anger and maximize peace and harmony on the hill. So, which ski rules should you know and how to behave in the ski slopes?
The Responsibility Code
The Responsibility code is the first place to start. This code consists of the ski industry's "10 Commandments", and you will find it on all promotional and signage materials at most ski resorts. You may need to read this code if you are unfamiliar with it.
Try to do your best to understand it and to remember these rules. If all people read this code before buying a ski pass, the world would be better. Understanding the Responsibility Code should be similar to the exam you have to pass to obtain your driver's license.
Nevertheless, it is not enough to know the code. All these Dos and Don'ts will not work if the skiers do not behave appropriately. Moreover, you can break skiing rules in many categories (Gondola, Chairlifts, Skiing/Riding, Lift Lines), and there are different rules for different places. So, let's learn more about all of them.
Seven Points to Your Responsibility Code
Never stop in the places where you may be not visible from above and never obstruct the trail.
You have to use specific devices to prevent runaway equipment.
It is your responsibility to avoid people ahead of you, as they have the right of way.
You should always stay in control, so you must be able to stop and avoid other skiers and objects.
Do not enter closed areas and stay away from closed trails. Observe all posted warnings and signs.
Look uphill before merging into a trail.
Check the lift's safety rules before using it.
The Lift Line
Slow down
Many skiers like putting the brakes on at the last moment, trying to execute the tight turn. Nevertheless, when skiing fast, the consequences of your mistake can be dramatic.
It will always be a good choice to slow down before you enter the maze. And you shouldn't exceed the speed limit, especially when you are skiing with your children.
Wait outside
Those skiers who wait for their friends inside the maze, create many inconveniences for others, clogging the lift line. The best thing to do in this situation is waiting on the side of the maze. Start moving into the line when you see your friends coming. So they will join you without making a stop.
Watch Your Feet
Be careful not to ski onto someone's snowboard or skis, as nobody likes it. Skiers should respect the personal space of each other, so it is not a great idea to get too close to others. Also, it helps to avoid any potential damage to your equipment.
Fair Play
Stay in line and do not rush ahead, as it's bad manners to do so. Respect other skiers and do not create a mess. It is always better to know your place in line and do not stop the line when it is your turn to go.
Be respectful
Most people enjoy their time in the lift line, admiring landscapes while waiting for their turn to go. And that is great! However, several things annoy many skiers. And one of those things is small children who keep swearing and pushing each other, bumping into other skiers.
Be respectful of other skiers in the lift line. And get your kids to behave, so they do not create any troubles.
Tickets
Make sure you have your ticket with you, and you can show it to the resort's staff before your first run of the day. If you use a pass or ticket attached to your ski jacket, make it easy to see. So it will be easier for the lift's staff to scan it. Also, if you do not understand how your lift pass works, you can always ask the resort's workers to help you.
Dos and Don'ts of the Lift Line
DO be aware of the configuration of the ski maze and see how you should alternate if two lines are merging. Always make sure that it is your turn to go. If you are using a chairlift, make sure to pair up before entering the loading area. Also, check out how many skiers fit on the chair. Most often, the chairlifts are for 4, 6, or even 8 persons.
DO have your lift ticket or pass available to be scanned. Also, keep it away from any electronic devices, like your smartphone or smartwatch, as these gadgets can interfere with the ticket reader. Try to remember in what pocket you have put your pass, so you can find it quickly without holding other skiers back in the line.
DO use your ski poles to move up in the lift line. They can also help you to stop when you reach the loading area. Also, in case you are skiing with your kids who do not use poles, it will be best to hold them by your hand and pull your children along. So you will be sure they move with the flow.
DO NOT put on your snowboard or skis at the lift line's entrance (also known as a maze) or at its top. You may block all traffic within the lift line and clog it. The better option is putting your gear on before getting in the lift line and out of the way of other skiers. But first, have your pass scanned.
DO NOT text your friends or talk on your phone in a crowded lift line. It may be annoying as you might not pay attention to the flow. If you need to message or call someone, do it outside the maze. Also, try to talk at a low volume and avoid airing your dirty laundry or speaking in a confrontational tone in public.
DO NOT engage in horseplay, as it can be dangerous, especially in the crowded lift line. Nobody will tolerate stupid tricks like waving your poles or messing with somebody's bindings. These actions can slow down the line, and you can accidentally hurt someone. Also, avoid cursing in the lift line.
DO NOT be the person that sneaks into the group without asking to join up or asking at the last moment. Also, if you are single, do not join the groups from the other side of the lift maze. Also, it is bad manners to tell a single person who wants to join your group to hang back or go with another group as you want your chair with your friends or family.
DO NOT enter the lift maze at a high speed if you are not sure if you can stop on a dime without hitting other skiers in the line. Only professionals with many years of experience can perform this maneuver. Remember that it is a lift line, not a World Cup downhill finish!
DO NOT stay at the top of the maze waiting for your friends. If you have agreed to meet there, step aside and keep out of the way of other skiers. Stopping at the top of the loading area, be ready to get rude comments and nasty looks. Lift protocol doesn't allow doing it, and everyone in the line will hate you.
DO NOTget too close to other people in the lift line. Avoid pushing them or stepping on other skier's skis.
On The Chairlift
Know What You Are Doing
Do not hesitate to ask the lift crew for help if you do not understand how to get on the chairlift. If you do something wrong, you are likely to fall. It makes you feel bad and slows down the line.
If you believe that the lift moves to fast, you can ask to slow it down. The lift crew will do it without any questions, as they understand that it is better to slow down the lift for a few minutes than to stop it because of someone's fall. Moreover, you may ask them to pull your young kids back into the chair or to help you get into it. Lift crew members are always happy to adjust to your needs.
Easy with the Bar
The safety or comfort bar is probably the most significant safety tool of the chairlift. However, rules on its usage may vary depending on the resort. Still, even if you are skiing in Vermont or in France (both require bar usage), you should not slam the bar down without asking others.
It will be best to wait for some time and let everyone take his place. After that, ask if you can bring the bar down. So you will not bash anyone in the head.
Good Conversation
The chairlift is one of those places, where strangers can talk to each other to avoid an awkward silence. However, you should not ask them about their religion or lifestyle. The good topics for such a conversation should be neutral. You can ask them: How are you doing? Do you like today's weather? Are you having fun?
Keep the conversation benign and friendly. And if you do not like talking with strangers, the best way to avoid is by wearing your headphones and turning on some good music.
Hold on Tightly
Nobody wants to drop his phone, glove, or pole off the chairlift. For this reason, you need to hold onto your stuff tightly when riding. You may say goodbye to anything that falls from the chairlift.
Also, explain to your kids that there are better ways to test gravity than by dropping ski gear off the lift. And ask them not to throw snowballs at the skiers, as they can hurt them.
Try to keep the needed stuff on your chair. And ask your seatmate to hold your gear if you want to take off your helmet or gloves.
At The Top
Find out which way your seatmates plan to go. It will allow you to avoid problems and inconveniences. When you are on the top, get out of the way, or let the other people get off the chair.
When you believe that it is the right time to raise the bar, let your neighbors know and ask them which way they will go. It helps everyone to prepare for the slide.
Dos and Don'ts of the Chairlift
DO be gentle. Before lowering the comfort bar, ask everyone if they are ok with it. Wait for everyone's confirmation or response so as not to slam the bar down on someones' head. Do not forget that it often takes people some time to adjust themselves. Once everyone is ready, you can lower the bar.
DO avoid using any offensive language, especially when you are riding with strangers or small kids. It also applies to talks on your mobile phone while on the lift. If you have to answer a call, keep it as brief as possible.
DO NOT talk about possibly controversial subjects like sex, religion, or politics with your seatmates. They may feel uncomfortable to speak on such topics with a stranger. Unless you are good friends and you understand the level of comfort of each other, avoid discussing these subjects. Also, there are better topics to discuss than relationship issues or deep family secrets.
DO NOT smoke on the lift. Even if you have asked skiers sitting next to you if they are ok with it and they answered yes, it doesn't mean you should do it. Most people will say yes just to be polite. But it usually means they want to avoid the confrontation. So it will be better to wait a few minutes and smoke on the top.
Gondola lifts
You should not try to put your snowboard or skis into the gondola lift if you are unsure how to do it properly. It may slow down the line and cause many inconveniences to others. Ask the lift operator to help you with that.
The same rules regarding smoking and drinking alcohol also apply as on chairlifts. Moreover, you should be extremely careful with alcohol and skiing, as you can hurt others and yourself.
Also, respect your seatmates and make room for them. Do not sit in the middle just because you want to take a photo. Besides, there are some days when it is better to avoid riding the gondola. If you have a weak stomach, problems with keeping gas inside your body, or you like eating Limburger cheese or tuna fish while on the lift, it would be better to stay away from gondola lifts.
The International Ski Federation Rules Of Conduct
In 1963, an Italian cultural and sports association Panathlon International proposed the first Decalogue, which was launched the same year in several major ski resorts. Its first version was proposed by the International Ski Federation during the Beirut Congress in 1967. In 1973, during the Famagusta Congress, the list of rules was updated, and in 2002, the final changes to the guidelines were made. This list consists of three chapters, defining the suitable behavior for snowboarders and skiers.
The 10 FIS Rules for the Conduct of Skiers and Snowboarders
Respect for Others
All snowboarders and skiers need to behave in such a way that they do not prejudice or endanger others. Moreover, they are also responsible for any defective equipment or newly developed material they use. If you plan to rent the ski gear, you should make sure it is suitable for your level. Beginners should not use the ski equipment created for professional skiers with many years of experience.
Control Your Speed
Avoid moving too fast. You need to adjust your manner of snowboarding or skiing and your speed to the conditions of the slope, weather, traffic density, and your skiing abilities. Most collisions happen because of snowboarders or skiers that move too fast and lose control.
You must feel that you can control your moves, turn, and stop. Snowboarders and skiers should move more slowly in places with reduced visibility and in crowded areas, especially within areas close to ski lifts and at the bottom and edges of a slope.
Choose the Correct Route
Choose your path in such a way that you do not endanger snowboarders or skiers ahead. Neither snowboarding nor skiing does not limit your routes to one defined path. However, you need to adjust your snowboarding or skiing to the conditions on the mountain and personal abilities. Remember, that the snowboarder or skier in front of you has priority. And you have to keep a safe distance between yourself and that person to leave him enough space.
Overtaking
If you leave enough space for the overtaken snowboarder or skier, you may overtake that person to the left or the right. But you will be responsible for making that maneuver safely, without causing any difficulties to the snowboarder or skier you are going to overtake. And this responsibility rests with you until you complete the maneuver. It also applies when overtaking stationary snowboarders and skiers.
Starting Your Move and Moving Upwards
When you want to enter the marked run, move upwards, or start after stopping, you have to check out the situation and make sure it is safe to start moving.
Many accidents happen when the skier joins the slope or starts again after stopping. For this reason, if you found yourself in such a situation, you have to avoid creating a danger to other skiers. Still, as soon as you started snowboarding or skiing again, you have a benefit of the third rule.
Stopping on the slope
You should never stop on the slope, especially in places with restricted visibility and in narrow areas. If you fell in such an area, stand up and get out of the way as soon as possible. You should make stops only at the side of the slope.
Climbing and Descending on Foot
Either you are descending or climbing on foot, stay away from the middle of the slope. When you move against the general direction, you create an obstacle for snowboarders and skiers moving from the above. Also, your footprints can cause danger, as they damage the surface of the slope.
Respect for Signs
Everyone has to respect all markings and signs. The color of the sign determines the degree of difficulty of the chosen slope. You are free to choose the slope you want, but you must be sure that its level is suitable for you. Also, strictly observe signs that close a slope or denote danger. Those signs are there for your safety, so you should respect them.
Assistance
If you have witnessed the accident, you should help the affected person. But first, you must check out the situation around you and make sure it is safe. You need to alert the appropriate authorities, mark the accident, and give Immediate First Aid.
Identification
Every person who witnessed the accident has to exchange contact information. You may help to create a full report of the accident, which allows the resort's authorities and the police to better understand what happened and to determine who was guilty.
Conclusion
As you can see, there are many skiing and behavior rules to follow. Some of them may look obvious, but they are still helpful. Do not forget: their primary purpose is to make your time on the slope safe and fun. They apply to all snowboarders and skiers, so all of us must respect them.
Remember, you should be respectful to other skiers and resort staff. Avoid swearing, clogging the lift line, and using your phone without paying attention to the line flow. It may annoy others, creating inconveniences and troubles. So, let's follow these rules and make the skiing experience even more enjoyable!