Last updated on November 17th, 2021 at 11:27 am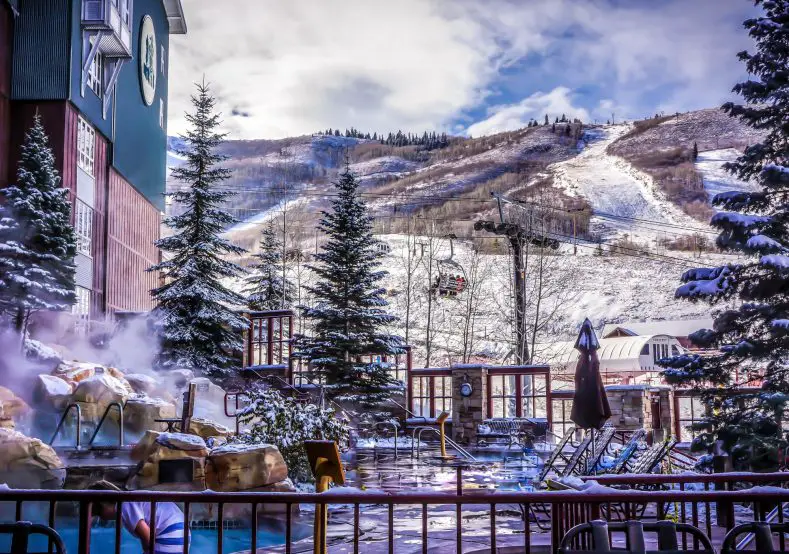 The weather outside could be frightfully cold or blisteringly hot. At home, that's easy to deal with, but when you're on vacation it can be a recipe for disaster. That's why you need a travel destination with indoor ski resorts. 
We're not talking about your kid's after-school ice skating rink. 
These epic ski resorts give you a chance to hit the slopes any time of the year. Whether you're new to skiing or regularly hit the black diamond trails, these resorts offer something for everyone. 
Take a look below at the best indoor ski resorts the world has to offer. 
1. Ski Dubai (United Arab Emirates) 
Dubai was never known for its snowfall until Ski Dubai emerged in 2005. Inside the resort, you'll find five ski runs, a snow park where you can go sledding, multiple restaurants, and places to buy steaming cups of hot chocolate. 
If that's not enough, you can always bounce around inside enormous inflatable Zorbing balls. 
What's more iconic than seeing penguins playing in the snow? Not much. At Ski Dubai, you can get up close and personal with penguins after a long day of hitting the slopes. The resort offers several packages where you can interact and play with two species of these adorable animals. 
Find out more here: https://www.skidxb.com
2. Wanda Indoor Ski and Winter Sports Resort (China)
Located in one of the snowiest places in China, Harbin not only hosts an annual Ice and Snow Festival but is home to an incredible indoor ski resort. In 2017, the world's largest indoor ski resort opened its doors to visitors for the ultimate ski and snow experience. 
The space features 80,000 square feet of everything you could possibly want in a winter resort. You can enjoy ski lessons, ride the chairlift up your favorite slope, or play in a snow castle. Most importantly, there are six different slopes to choose from. Why not try all of them?
Once you're done skiing for the day, rest up in the associated hotel and enjoy delicious local cuisine in the restaurants. The town itself is a popular tourist destination, making this the perfect add-on for your next trip to China. 
For more information: https://skiaddict.co.uk/blog/the-worlds-biggest-indoor-ski-resort/
3. Alpin Center (Germany)
The beautifully scenic hills in the city of Bottrop are home to the world's longest indoor ski run. It's over 2,100 feet long and is the perfect winter activity if you happen to be in Germany. 
This indoor run is not your average ski slope. It was designed to take advantage of the natural terrain to give skiers a more realistic experience. To get the most out of this destination, you'll want to visit during the summer. 
The ski slope is fully operational all year, so you can enjoy snowy fun any time. However, during the warmer months, a toboggan track opens to add more adventure to your visit. If that's not enough adventure, don't worry. There's also an indoor skydiving area. 
After you've worked up an appetite, you can take in the sights of the countryside by eating and drinking at the highest beer garden in the region. 
To see everything they offer click here: https://www.alpincenter.com/bottrop/en/node/49
4. Big Snow American Dream (United States)
When you think of New Jersey, you don't typically think ski destination. Think again. Nestled into the suburbs outside New York City is the Big Snow American Dream ski resort. 
As North America's first indoor ski resort, it had a lot of hype to live up to, and it exceeded expectations. With a motto like "every day is a snow day" you know you're going to get a wonderful experience every time you visit. 
There are slopes for beginners, intermediate skiers, and even advanced runs for the seasoned pros. The resort offers rentals for anyone who doesn't want to travel with lots of bulky gear. 
Maybe you're looking for something a little bit different. Why not try riding a snow bike? It's a great way to have a snowy adventure and allows you to show off your awesome skills in a new way. 
Learn more here: https://www.bigsnowamericandream.com
5. The Chill Factore (England)
The Chill Factore is in Manchester and offers a full day of snow-filled adventure for the entire family. 14 snow cannons ensure there will be a thick layer of snow on the ground, even in the middle of summer. 
England has not one, but two indoor ski resorts. However, this particular resort has the longest indoor slope in the UK at 590 feet in length. If you're looking to improve your technique and run times, the resort offers weekly lessons to help you improve. 
The fun offerings don't stop there. Snowboarders can tackle pipes, tubers can do some downhill sliding, and you can try to beat your friends in a downhill sledding race. 
Click here to see all they have to offer: https://www.chillfactore.com
6. Snow Planet (New Zealand)
Spend your morning at the beaches in Auckland and your afternoons at a ski resort. You can choose to ski or snowboard down any of their slopes in Snow Planet's massive snow sports center. 
Each time you visit the more advanced slopes will be different. The terrain park is designed to change shape every few months so you never get bored of skiing the same slopes over and over again. 
Make sure you bring your kids to this resort. Snow Planet offers an Alpine Village made to keep your children occupied and ridiculously happy. They can build snowmen, go sledding, and even have a snowball fight!
Find out more here: https://snowplanet.co.nz
7. SnowWorld (Netherlands)
SnowWorld truly has it all. Ski all day and much of the night on one of their five slopes. As soon as darkness falls you can keep skiing under bright, stadium lights until 11 p.m. After you've mastered all of the slopes, get ready to chow down on delicious food. 
This resort offers not one, but five restaurants featuring locals of local cuisine, tourist favorites, and thirst-quenching drinks. After you've had lots of food, you can always walk to the hotel to stay in their on-site accommodations. 
Explore everything they have to offer here: https://www.snowworld.com/landgraaf/en
8. Ski Egypt (Egypt)
Ski Egypt is the biggest snow park in Africa and makes for one incredible travel destination. 7,000 tons of snow are spread out over the 22,000 square meter park. Learn how to ski or jump right onto one of their many slopes. 
There's frosty fun to be had for everyone in the family. Kids and adults can romp around the snow play area, ride the Polar Express train, go tubing, and even ride a bobsled. Let's not forget about the penguins. Be sure to watch the march of the penguins as you learn about their natural habitat. Or, you can choose to have a more personal encounter with a private meet and greet with these waddling snowbirds. 
Learn more about this resort here: https://skiegy.com
9. Madrid SnowZone (Spain)
Quit the bustling city for the day to experience the one-of-a-kind snow adventure just outside of Madrid. Expert skiers and beginners can all have a blast together inside one of the largest indoor slopes in the world. 
Each slope at SnowZone offers a different gradient depending on skill level, ensuring every single person in your travel party can have a memorable snowy adventure. If you're looking for something more leisurely for your vacation, you can try their complementary snow bikes or toboggans. 
Learn more about their services here: https://www.madridsnowzone.com
10. The Snow Centre (England)
During your next trip to London, venture to the north of the city to visit The Snow Centre. Inside you'll find slopes for every skill level, lessons for beginners, and classes you can take to learn fun, freestyle tricks. 
Once you've had your fill of skiing, you can race down the slopes on tubes or sleds. Even the professionals use this arena to train. The extra wide and extra long slopes make training and skiing in large groups much more enjoyable. 
Plan your visit here: https://www.thesnowcentre.com
11. Allrounder Ski (Germany)
Last, but certainly not least is the Allrounder Ski Resort. This site will feel more like an adult playground with its many slopes, ropes course, rock wall, nightclub, and beer garden.  When you're on vacation it's important you focus on nothing but having fun and that is exactly what you'll do here. 
Don't forget to book your stay in their hotel which is anything but normal. The fire and ice hotel provides you a place to relax but also offers amazing views overlooking the slopes. 
Plan your next adventure here: https://www.alpenpark-neuss.de/en/
Which Indoor Ski Resorts Do You Want to Visit?
We hope all of these indoor ski resorts make it onto your bucket list. No matter where or when you plan to travel, there are plenty of options for adding skiing to your itinerary. 
Traveling the world to experience global ski resorts should be at the top of your list, but it can get a bit complicated. Take a look at our guides to make the process simple and fun.