To become a ski patrol, you will need to be a very good skier and have great physic strength. You are required to undergo an Outdoor emergency Care. The most ski resorts will require experience from an avalanche course. You need to be at least 16 years old to be a ski patrol, some ski resorts have higher age requirements. In average a ski patrol can expect a salary between $15 to $20 an hour.
You can find exiting ski patrol jobs in countries like Canada and in countries where the Alps runs, i.e. countries like Switzerland, France, Austria, and Italy.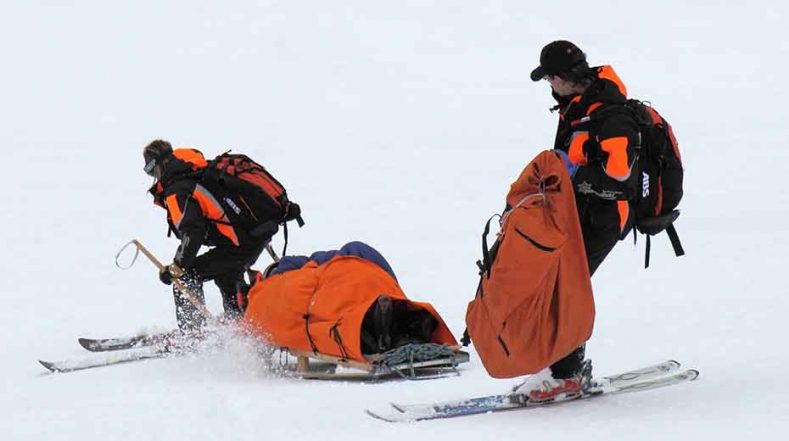 There is no doubt that skiing is one of the most popular sporting activities across large parts of the world. Of course, it is popular only in those countries that have winter and abundance of snow and ice. There is no denying the fact that skiing not only is an exciting and adventurous sporting activity but it also has a number of health and other benefits. But at the same time it does come with its own share of risk and challenges. Hence, there is a need to find out ways to manage these risks and problems.
That is why, more skiers, both amateur and professional turn to ski patrol men for mitigating the risks and problems associated with them. In this article, we will learn more about ski patrol as a profession and why it may be worthwhile to look at this as an alternate career option. However, before looking at the various aspects of ski patrol and how can one become a qualified one, let us try and have a brief look at the various risks and dangers associated with skiing. It happens, at times, even with experienced skiers and therefore beginners should understand the various possible risks and dangers in skiing. This will help them to take the necessary precautions and also understand further the need and importance of hiring the right ski patrol professionals.
What is ski patrol
Put in simple words; Ski patrols are made up of individuals that provide rescue, medical and hazard prevention services. It is obviously given to those who get injured in ski area boundaries. Sometimes the injuries may also happen beyond the well drawn background settings. In short, they help to give relief and also get in to rescue jobs for those skiers who may have suffered minor, major or even life-threatening injuries.
Risks of skiing
While there is quite a bit of excitement and enjoyment associated with skiing, it would be naive on our part to be careless about it. Here are some of the possible risks associated with skiing that one should be aware of. Understanding them, will help them understand better the importance of ski patrol professionals.
Skiing of the cliff: While experienced skiers may find it easy, beginners face the real threat of accidents because they may not be able to overcome and negotiate obstacles as they come hurtling down at great speeds. Hence, they could end up with some minor or major injuries.
Avalanches
These are natural disasters and can catch both experienced and new skiers off guard. Skiers also sometimes disturb the packed snow leading to avalanches. In case of accidents the role of ski patrol professionals becomes important.
SIS (Snow Immersion Suffocation)
This could be a potentially life threatening situation and it happens when a person is stuck underneath a heap of snow. It requires immediate help.
Hypothermia
Hypothermia could be potentially life-threatening situation and it happens when various parts of the body are exposed to prolonged exposure without adequate clothing and protection.
Frostbite
This is almost like hypothermia and it happens in the hands and feet and mostly because of inadequate coverage. It could happen just by touching surfaces below -19 degree Fahrenheit or lower.
ACM or Acute Mountain Sickness
This could be a serious problem for skiers who are into skiing in high altitudes. It impacts those who are at a height of 2500 meters or more above sea level. It could lead to dizziness, vomiting and shortness of breath.
Broken legs and hands
These are common for skiers and it happens mostly because of careless skiing by experts or because of improper skiing by inexperienced skiers.
Head Injury
Head injuries happen more with skiers even when they wear headgears and at times they can be severe. Uncontrolled speed and poor quality of head gears are the most common reasons. Read more about how often to replace a ski helmet.
ACL or Anterior Cruciate Ligament injuries make up for almost 17% of injuries to skiers.
Now that we have a reasonably good idea about the possible injuries during skiing let us see how being a Ski Patrol specialist can help in more ways than one. These professionals are very much in demand in countries like Canada and also in countries where the Alps runs, i.e. countries like Switzerland, France, Austria and Italy.
What to expect from this type of job
There are a number of tasks and responsibilities that are expected of ski patrollers. To begin with they provide emergency medical care and also rescue services to those who patronize ski resorts or even in a back country area. They also help in working towards promoting mountain safety. This is done by enforcing the right area policies, clearing ski runs of debris, undertaking maintenance work on resort boundaries. They also make use of their expertise, skill set and special techniques when it comes to controlling avalanches, handling of toboggan, rescue and search operations, chairlift evacuation and also snowmobile operation.
Many ski patrollers are also known to be snowboarders and also can be Nordic skiers and much more. It is quite obvious that they must be extremely good at snowboarding and skiing, so that they are able to provide emergency care and services whenever needed.
Apart from the first aid services and responsibilities, ski patrollers also have to work to promote and also ensure mountain safety. A typical day of these professionals starts by having a sweeping look of the mountain before it is opened to the skiers. This is done with the objective of offering the best possible safety for the guests. Their job includes clearing debris, maintaining boundary rope lines, marking obstacles, and also fixing broken signs. These are regular and routine tasks that these professionals undertake when they are not attending any medical emergencies. Once the skiing time is over, ski patrollers have to perform another sweep to be sure that no skiers are left on the hill. Of course, they are required to spend quite a bit of time skiing because it helps them to move from location to location while they are performing their duties.
Ski patrol salary
The average salary of a ski patrol professional should be around $15 per hour. However, those who are beginners and are getting into the job for the first time can expect a salary of around $10 per hour and experienced ski patrollers are known to make around $20 or even more in some rare cases. There are some ski resorts, where these professionals are also paid around $27 an hour but they are mostly reserved for those who have at least eight to ten years of experience backed by the right qualification and expertise. Their previous job records are also taken into account while deciding on their hourly salaries.
Needed education and experience
All ski patrollers must have a basic level of qualification. They are required to undergo an Outdoor Emergency Care course or something similar to this. They would do well to also go in for additional course like EMT or Emergency Medical Technician, apart from a course on nursing. Some resorts also ask for an Avalanche Level 1 course. This course helps the patrollers to learn how to navigate through avalanche prone terrain, handling snow pack conditions, and also mastering other survival skills. They also may stand a better chance if they have experience as backcountry adventurers apart from having experience in surviving in the wilderness and mountaineering. Many of them also possess license for handling certain explosives on the hill and also fire canons across valleys. On the whole, their education requirements are focused towards making them well trained and in their ability to handle tough and demanding situations.
How old do you have to be to be ski patrol
The minimum age for ski patrol professionals is sixteen and in most cases the upper age limit is forty years. However, there are many ski patrollers who are above the age of fifty and there are also a few who could be touching seventy five and more. It all boils down to their being physically fit and having the ability to survive and perform their duties in some of the most difficult, demanding and trying environments, conditions and situations. They should also be fun loving and have a deep sense of commitment and responsibility towards their job and the people who they are supposed to take care of.
FIPS
They should also be complying the various needs and requirements of FIPS. FIPS stands for The Federation of Internationale des Patrouilles de Ski. This is an international organization that represents ski patrol and lays down guidelines and protocols for safety and other related aspects across the world.
Popular countries and ski resorts to work at
Though there are a number of countries where skiing takes places, the most popular countries are the following. It is here that there is a growing and continuous demand for Ski Patrol professionals.
Australia, Japan, Canada, the USA, Canada, some countries of the European Union, and of course Switzerland and many countries belonging to the Nordic area.
Can you be ski patrol on snowboard
While ski patrollers are not prohibited from doing their jobs on snowboards, they may have some restrictions when it comes to performing certain jobs and duties. The main objective is to ensure that the ski patrol professionals do their job efficiently and with minimum loss of time, especially in an emergency situation.
Conclusion
We are sure that the above would have given our readers a reasonably good idea about the opportunities, roles, and responsibilities of a ski patrol professional. It also would have given the areas of risk and dangers where the services of ski patrollers could perhaps make a different between life and death.