Last updated on December 30th, 2021 at 01:09 pm
Skiing is one of the most fascinating and exciting sports that perhaps offers complete exercising of each and every muscle and part of the body. It also is extremely invigorating to the mind and makes the participants happy and contended in more ways than one. However, making the most of your skiing experience depends on a number of factors. Your skill sets, levels of physical fitness, practice, coaching, experience and expertise have their own roles to play. On the other hand, the types of skis that you choose also have an extremely vital and critical role to play. Even experienced skiers often make a mistake of choosing the skis and accessories. Therefore, we think it would be a good idea to spend some time explaining the various things about skis, how to make use of the right skis, difference between rockers and cambers, and other such useful information.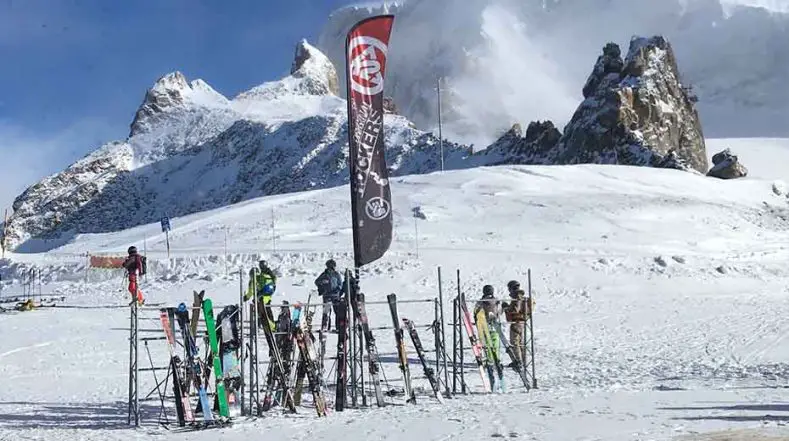 We also will spend some time understanding more about the different types of skis that you need. The article will also talk about ways to wax your skis the right way apart from understanding the skills and methods for sharpening ski edges. Reusing and remounting ski bindings also are something that could help you understand more about skis. Hence, there is no doubt that this article will be enriching and will give our readers a lot of useful information and also help them to enhance their knowledge about the various aspects of skiing with comfort, precision and skiing with the purpose of winning in competitions.
What are the benefits of skiing
While professional skiers engage in the sports with the main purpose of winning and making money out of it, most of us are into skiing because we consider it as an exciting sport and pastime. Yes, there are some proven and time-tested benefits and advantages associated with skiing and we are sharing a few of them:
It helps burn calories. Skiing is considered to be one of the best cardiovascular exercises. It can help individuals and even families' burn serious calories and help in their endeavor to lose weight and become fitter and healthier. According to experts, a person who weighs around 185 pounds may be able to lose around 265 calories when he or she skis for around 30 minutes.
It is fantastic for the lower body muscles. If you are keen on targeting the lower body muscles, skiing could be one of the best choices. This is because the sport keeps the body always in squat position. This adds lot of strength to the calves, glutes, and hamstrings. However, it would be a good idea to get into some stretching and warm up exercise before skiing to reduce the risk of injuries.
It also could be a great workout for the core muscles. You have stay constantly alert and balanced and this automatically forces the core muscles to work hard so that you move forward at great speeds on a slippery and uneven surfaces.
There is no doubt that being outdoors and exercising leads to increased production of endorphins. This could lead to increased happiness and relief. When you ski as a family, you could see each one of them enjoying adequate intake of Vitamin D which is so essential for the body.
Now let us get into the finer points that will help our readers to learn more about the different types of skis and other related subject matters.
What is camber and rocker
Quite often we come across terms like tip rockers, cambers, and rockers. These could be confusing terms even for reasonably experienced skiers. To put in simple words, the traditional ski is often referred to as the Cambered Ski. This is because it provides a rebound. Further, it also offers stability and edge control while you are on trail. It also comes with a raised center when the ski is laid without any weight on the ground.
Rocker or also a tip rocker has almost the same profile as that of a normal ski. They are also referred to as reverse camber. This is because they have some unique features. They also have a special shape that helps the rocker to remain lifted off the ground when it is laid flat. Further, those who have used rockers believe that it makes skiing comfortable and the maneuvering is also easier. It also has special capabilities and can absorb shocks and vibrations and can in floatation in powder. It comes with a typical banana shape when it remains on the ground. Those who love skiing in deep powdery snow may like rocker more when compared to a camber.
There are different types of cambers and rockers and let us have a look at a few of them.
Traditional camber
As mentioned above is often equated with the traditional ski and is almost the same. However, it is preferred by many because of a few benefits. It can help those who wish to carve turns with precision and complete stability while negotiating turns. It also offers better edge grip and hold. Traction is also better when moving at high speeds over groomed and hard snow. It could also be useful when negotiating upward skiing.
Camber with tip rocker
Camber with tip rocker is also quite common because user believe that it makes skiing more versatile. A tip rocker with a camber combination may allow even new skiers to stay balanced. It also allows the ski to do more work especially when it moves through deep snow and snow that is of variable depth. It also helps to ski more confidently and safely through soft snow beds.
Tip tail rocker
Tip tail rocker skis are also used. They are known by this name because the tail section of these skis rise off the ground and it happens nearer the binding. This also goes a long way in bringing down the effective ridge. It also increased the overall length of the tail. This extended part does not come in touch with the snow. Many users feel that this makes the skis feel comfortable and softer when it comes to using them.
Full rocker
Quite often a full rocker ski is considered to be almost the same as reverse camber. This type of ski is also known for being flat underfoot, and they usually do not come with a camber at all. They are also unique in the sense that they form a long arc that is subtle but it covers from tail to tip of the ski.
Reverse camber
If any ski, whether it is cambered or rockered, is put on edge and then weighted using a turn it achieves the status of a reverse-camber. These cambered boards and skis are capable of producing increased pressure when they are on the snow, especially at the tip and also the tail. This is because they need to flex a bit more and only then can the curve is achieved. There is nothing much to differentiate between rocker and reverse camber. The term rocker could perhaps have come from water sports where the use of rockers IS quite common.
Different types of skis
Let us now spend some time getting to know more about different types of skis so that our readers will be better informed about this:
Freestyle / park skis
If you are new to skiing and would like to learn the basic lessons, it makes sense for you to go in for freestyle skis. These are for beginners and they are known for some unique features. They have a softer flex and are not as stiff as other skis. Further they symmetrical as far as the tail and tip of the skis are concerned. Further, they also have a shorter turning radius. Additionally, they are also referred to as Park Skis and they come with a centered mount point. They also will have tips that are turned up at both the ends. This is for both backward and forward skiing.
Freeride / off piste skis
Free Ride Skis are almost as powder skis. However, they are not as fat and thick as powder skis. Further, they have some special designs and are used mostly off piste. However, they do have the capacity to perform well on piste also as and when required. Further, they are also wider when compared to all mountain skis. They generally come with an underfoot dimension ranging from 100-120 mm. Further, most of the freeride skis also come with a basic structure of tip rocker. This makes the ski appear a bit curved and this is slightly before the shovel. This could come in handy to move around in variable snow.
Carving / piste skis
Carving or Piste Skis are designed to do well on terrains that are groomed or customized. In other words it could be useful in places where the construction is of Piste nature. Further, they also come with special construction, bindings and side cuts. All these have been carefully designed to ensure that they perform extremely well in snow hard performance. The good thing about these skis is that it can be suited both for beginners and also for experts. However, they are unsuitable for powder skiing and lack the shape that is required for mogul skiing.
All mountain skis
As the name itself suggests, you can come across skis that are designed and manufactured to go almost anywhere. Mountain skis are considered one of the most unique when one looks at different types of skis. They are shaped similar to carving skis. However, they stand out because they are considered to be extremely versatile. They can be useful when skiing on groomed snow. They have wider size especially under the foot. They mostly have a underfoot measurement of 85-100 mm. This makes them to have better float and therefore you can also take them away from piste and then get into the powder. They come in different variants and have varying stiffness and shapes.
Bit mountain skis
They are also commonly equated with freeride skiing or extreme skiing. They are tough and robust and are designed to take care of skiing in steep terrains, and also on powdery snow surfaces. They can offer good stability even when travelling at high speeds. They also have wider underfoot. This makes it easier for them to float in powder. They traditionally have longer lengths and this again would depend on the height of the skiing person.
Racing skis
Racing skis are only for professional skiers and experienced skiers who are expert in downhill skiing or slalom skiing. These skis come with a typical shape and are generally narrower, longer towards the waist and binding. They are also more rigid and heavier. This adds to the overall stability, particularly when changing the direction at high speeds. They are heavier because this adds to the stability of the ski especially when moving downhill. However, it requires high levels of skills to operate these skis.
Tips on using the right ski for the right purpose
To understand the type of ski you need, it is important to understand more about the type of skier a person is. Skiers are broadly classified as
Beginners
Intermediate skiers
Advanced intermediate skiers &
Expert skiers
The type of ski that you will choose would depend on the competence and skill level you are in. Beginners needs skis that are safe and easy to handle, while expert skiers may look for heavy skis that make it easy for them to ski at high speeds downhill and also be able to negotiate tough bends and make other such moves easily.
If you are beginner, you would do well to master the basic. You must ensure that you are able to handle gravity even if the climb down is not steep as it is for experts. You must have the right gadgets in place including head gars, right boots, understanding of color coding and so on. Also be sure that you have travel insurance and protection again personal accidents and even possible death. As a beginner you must pay attention to stance, ability to stand up without the need for help and support, moving the skis forward and other such things. You also should learn more about speed control, warm up exercises, etc.
When choosing skis please pay attention to the following:
Length & Size
Ability
Ski Width
Turning Radius
Riding Style and Preferred Terrain
Length & Size would depend on your body weight, height and the type of riding that you wish to do. It would be a good idea to choose a ski length that is somewhere between the top of your head and the chin. If you are beginners a short ski would be enough. If you want an aggressive skiing choose a longer ski.
Ability: Your ability level may not be relevant as new types of ski are evolving almost every now and then. They are built in such a way that they take care of your ability depending on your level of proficiency.
However, a beginner should have the ability to do link turns, should be able to control edges, and should be able to stop with full control when he or she encounters red or blue runs.
An intermediate should have the ability to flawlessly turn and stop. Further, they should also be able to handle red and black runs confidently. These skiers should have the ability to also ski on tough terrains like off-piste and in powdery snows
Ski Width: The width of the ski will mostly determine as to how you feel and how the ski performs when you are in action. The width of the ski is measured from the middle of the ski or the narrowest point. Narrow widths help in quick and sharp turns. On the other hand wider waist sizes help the ski to have better flotation in powder. Usually the dimensions will take into account tip, waist and tail.
Turning Radius: The turning radius will also take into account how the skis perform and feel. The turn is measured in meters. The turning could be classified as short turn radius, medium turn radius, and long turn radius.
Skis that come with long turn radius are suited for powder and also for big mountain skiing. The turns usually happen slowly and there is stability even in high speeds.
Riding style & preferred terrain: While any ski can be used to ride on any terrain, it would be better to choose the right ski based on your riding style and the terrain you will be negotiating. If you are new to skiing it might be better to go in for all mountain skis because they are designed to move around in all types of snow conditions.
You could choose park skis or freestyle one if you are riding on parks. These skis usually come with twin tips and also come with durable edges.
Alpine Touring, freeride and piste are also a few types of skis that are designed keeping the specific needs and requirements in mind. Freeride is for those who spend days skiing in varied terrain and off-piste. They love to explore the entire mountain. Alpine touring skis are also known as backcountry skis. They are suited for moving uphill and also downhill. They are light in weight and can fit climbing skins easily.
Piste skis are perfectly suited for moving down pistes that are freshly groomed and for those who wish to practice tight turns and carving. These skis are narrow at the waist and are suited for responsive and quick turns.
Waxing your skis
Let us now try and find answers to the question as to how often to wax your skis. The periodicity of waxing would depend on a number of factors but there are some thumb rules and practices that have stood the test of time. Professional skiers always make it a point to wax their skis before each and every run.
Otherwise, it would be better to rewax if you are planning to ski in a place where the snow is different. Powdered snow skiing may require regular waxing. If the ski base is extruded then it is time for rewaxing. You must certainly rewax you ski if you come across chalky grey residue on the base of your ski.
If you have a feeling that snow is sticking to the base of your ski, you must not delay rewaxing because of obvious reasons of comfort, easy of skiing and of course safety. Once the skiing season is over, you should rewax the ski and then keep it stored in a safe place.
Sharpening of ski edges
Ski edges become blunt over a period of time and therefore it needs to be sharpened regularly. It would be interesting to find out the right answer to the question how often to sharpen ski edges.
While sharpening ski edges is important, you must bear in mind that you are removing some material each time you do it. it could be in the form of base grinding or sharpening. Therefore the ski edges must be done carefully and discreetly. Unless you are a professional skier, it may be advisable to sharpen them once you have completed ten ski days. It also may be enough to sharpen the edge of the ski during the start of the season. The outside temperature and type of snow could also impact the frequency of sharpening of ski edges. Your style of skiing could also impact it but never should it go beyond 10 times during the entire life of the ski.
Reusing & remounting of ski bindings
Finally lets us spend some time understanding a bit more about the reuse and remount of ski bindings. You must not hesitate to remount ski bindings the moment they become indemnified. This will ensure that the ski bindings are working properly and efficiently. It will also enhance the safety aspect of your skiing. If you find them visually unsatisfactory, it may not be right to put off remounting of ski bindings.
Cost is also factor and remounting usually will set you back by around d $45. However, you must not ignore the benefits of remounting. They go a long way in improving the overall stability of the skis. Moving bindings and or reusing old ones could also help powder skiers to help find a much better flotation.
Conclusion
We hope that the above would have given our readers a reasonably good insight about the various aspects of skiing. It may help them to choose the right ski depending on their skill levels, proficiency, skill sets and also the type of surfaces that they are skiing on. A few useful tips on maintenance of skis, ski rebinding, sharpening of ski edges and other such things could also be considered useful and informative.