If you have an avid liking for skiing and are into downhill skiing, then you certainly will have many doubts and questions in your mind. There is no denying the fact that you invest quite a bit of time, effort and money buying the right ski boots.
You must be sure that the boots fit with your ski bindings.
To begin with we need to understand that whether it is the first pair of boots or the second or third one, you must make sure that it has a perfect fit and meets your requirements.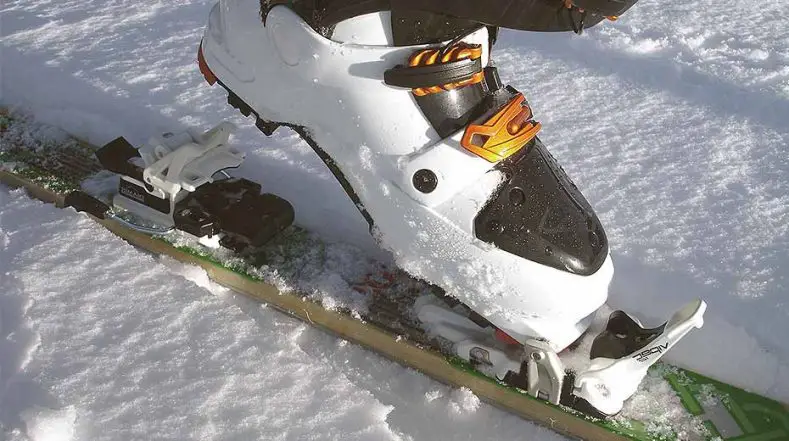 Further, any good ski boots should have a perfect combination of warmth, comfort and performance. The ski boot bindings should also be of the best quality and more importantly it should be compatible with the ski boots that you are using.
We need to bear in mind ski binding is one of the most important device of your gear, the binding helps to connect the ski with the ski boot. It has a very important and critical role to play. Binding helps to keep the boot firmly attached to the ski and therefore it offers safety, apart from helping the skier to maneuver better in tough and demanding conditions.
Ski boot bindings have built in safety features and this helps to release the ski from the boot, to avoid twisting and hurting your legs. This reduces the risk of injuries when failing.
Therefore it would be a good idea to have some general information about ski boots which might have a universal fitting to all types of bindings.
If this is not the case, then you must find out the best bindings that are compatible with a reasonably large variety of ski boots. We are sharing some of the most important points to be considered when you are planning to buy a ski boots along with the right bindings.
Compatibility
Again we would like to reiterate that not all ski boots are universally compatible with all ski bindings. You must ask specific question about the compatibility between bindings and boots. Make sure that you have the right information especially when buying it from an online outlets.
For example tech bindings are suitable only for boots that have tech inserts.
You also have frame bindings, and these are compatible with most alpine touring boots.
However, make sure that these tech bindings also work well with downhill boots. Also pay attention to the width of the skis and the brake.
Most downhill and AT bindings are available with brakes. The brake width that are available on the ski bindings should have the right amount of empty space between the braking systems. Without this you will not be able to fit the bindings properly to your ski boots and the braking system may not work well when it is needed.
At ski resorts its prohibited to ski without brakes on your bindings.
New boots to old skis
You can buy used skis and buy a new pair of boots to keep down the cost of your ski gear.
If the ski boots are significant larger or smaller to the ones used before with the skis and bindings, you might have to remount your ski binding.
The easiest way to do this is to go to your local ski shop. In this article you can read more about how remounting ski bindings works.
Regular alpine boots and bindings
When you are going to ski with alpine boots here are a few things that you must bear in mind.
To begin with, please ensure that the brake bindings are big enough to fit across the edges of your skis.
You also should understand something more about DIN setting. This is basically a number that gives you a good idea as to how firmly and securely your bindings are able to connect to your skis.
Further, they should also have a mechanism by which you are able to adjust ski bindings. This is especially true for alpine skiing and you also must take into account other specific things. A few of them are being discussed hereunder.
Backcountry/touring ski bindings
When you are into alpine touring you need to make sure that you have alpine touring boots and the right type of ski bindings.
You also must understand a few things about backcountry bindings if you are not an experienced skier.
You should be able to distinguish between downhill skiing and backcountry skiing. Both are different and you need special types of ski boots and bindings.
Bindings for backcountry touring are also referred to as AT bindings or even alpine touring bindings. These bindings are again unique and special. They help you to ensure that your heels are free so that you are able to hike up the mountain on your skis.
Further, the also lock your heels thoroughly when you are moving downhill on your descent. And then works just like a regular alpine binding.
They also come with heel risers and these are important. They help in avoid those painful and debilitating Achilles tendon strain when you are moving uphill.
Ski demo bindings
There is not much of a difference between regular bindings and demo bindings.
The demo bindings have one additional feature in that they have some easily adjustable features that is suited for different types of skiers.
The moot point is that they are more flexible, versatile and come with a much wider range of adjustments when compared to standard bindings.
These demo bindings are often offered by those who rent out skis.
Demo bindings could also be a bit heavier because of the various adjustment features and there is nothing wrong in using them as long as you feel comfortable with them.
Importance of having the right ski boots
There is no denying the fact that your ski boots are one of the most important gear that helps you in your skiing practices, hobbies, expeditions and even friendly or professional competitions.
You must spend time and make sure that that the ski boot fits you properly. Many boots come with soles that are gripping and they also have a walk mode facility. These types of shoes come in handy when you want to go from the parking lot to the lift.
There are some special types of boots and they are suited for those who are looking for a tighter performance. They come with shock absorption facilities and are suitable for landing with hard jumps and also for those hard carvings and could also help you when you want to hike or get into a skin-up mode.
Hence you must consider the above facts when choosing ski boots. However, additionally, we often forget about the bindings.
Are they compatible with my ski bindings?
This is a question that you must ask yourself and before you even contemplate buying one, make sure that the boots are completely and totally compatible with your bindings. Don't be under the impression that all ski boots can be perfectly mated with the ski bindings. There are a few things which you must bear in mind when it comes to ski boots having the right compatibility with the bindings.
A Few more Things about Ski Boots and Compatibility with Bindings
As a beginner many skiers make the mistake of believing that all ski boots fit and bind with all types of bindings. However, they could be in for a rude shock when they find that this is not the case. As mentioned above not all ski boots are made to suit all bindings. Hence, if you are not sure about the ski bindings you have or if you are unsure as to whether the bindings will match the ski boots, gather information and knowledge. There are any sources of information that could help you to get some useful and reliable knowledge when it comes to choosing the right ski bindings while buying your ski boots.
As a rule of the thumb, always buy the ski bindings and the ski boot together and preferably from the same outlet, whether online or from a brick a mortar outlet. When you are able to do this, you can be sure that you will not end up buying incompatible ski boots and bindings.
Conclusion
To sum up, there is no doubt that having the right skiing apparatuses and accessories is extremely vital. It helps in better and more enjoyable skiing and also makes skiing safer and brings down the risk of injuries and accidents.
The above would have helped our readers to understand a few things about the importance of ski-boot and bindings compatibility.