A Ski-in, Ski-Out resort have the apartments or hotel rooms so close to the piste that the residents don't have to use any transport to the ski lift. Which simplifies the stay for the skiers, so they can maximize the time in the slopes. Ski in, ski out resorts often comes with a 20% higher price tag compared to a resort without this convenience.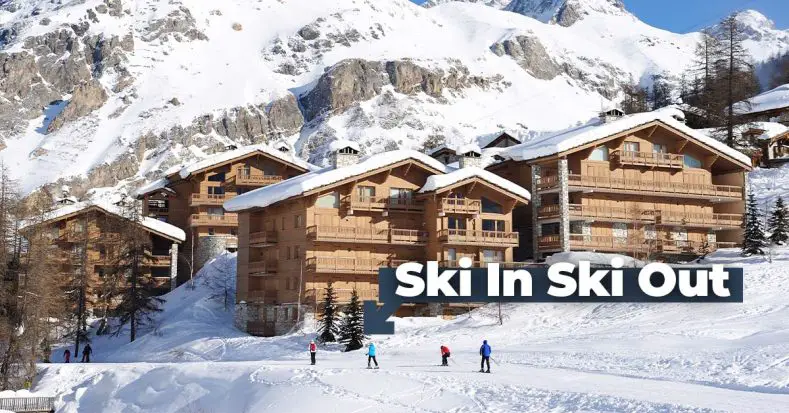 Did you know that there are just over 2000 alpine skiing destinations globally and the estimated number of people who practiced alpine skiing amounted to 30 million in Europe,20 million in North America, and 14 million in Japan?
These numbers show how valuable alpine skiing is to the tourism industry and for boosting local economies. Are you looking for a resort for your next ski trip? This guide will help! Here is everything you need to know about a ski-in, ski-out resort.
What Is Ski-In, Ski-Out?
When you are looking for a fantastic ski resort, the issue of ski-in and ski-out usually arises and whether that resort has that option or not. If you have never stayed at a ski-in ski-out resort then read the following and see how just how advantageous it can be.
There are many types of ski resorts, a ski-in ski-out resort is basically one that borders a mountain. It's where skiers are able to ski in and out of the resort without having to use any form of transportation. So, instead of lugging your heavy skis and boots around into a car or bus, you can simply lace up in the resort's lobby and take one step from your ski out accommodations and you will be skiing.
There are many different types of in and out ski resorts but they all basically have a favorable location that sits near the ski lift. The important part here is that you won't be wasting any valuable ski time by traveling to a ski lift so allows for a more memorable and fun experience for you and the whole family.
Advantages Of Ski-in Ski-out Facilities
Convenience is by far the biggest advantage when it comes to a resort that offers this facility, instead of waking up early and waiting around in traffic in the high season, you can simply get that extra hour of sleep without missing out on anything on the slopes.
Resorts often offer other facilities like a gym, restaurant, pools, and daycare, all conveniently located so you don't have to wander around town looking for such things. Instead, you can have peace of mind and drop your child in daycare and be ready to ski out at a moment's notice. This is also beneficial when you go abroad to ski and buy an all-in-one package and save you a lot of stress in booking a ski holiday.
If you are going in a group, you don't have to wait for everyone to finish up with breakfast or finish getting ready. Particularly if you need to take the same transport service to the ski lift. Instead everyone can go at their own pace, meet up on the slope and you won't have to be dictated by other people and leave the slope prematurely because someone is too tired or hungry. 
In a group, there is always a varying level of experience between members. With a ski-in ski-out option, the lesser experienced skiers can take lessons close to your accommodation which doesn't inconvenience the group.
Downside To Ski-in Ski-out
There aren't many drawbacks to using this type of resort but a few minor setbacks are worth taking a look at. Usually, this type of convenience does come at a cost and is about 20 percent more expensive on average and it still might be a trek to get to the actual slope. You may have to find your way through an unmaintained forest or it might be a difficult path to ski on. 
Try to find out as much information as you can before booking and take all your needs into account and what you want to be included in your trip. There are many disadvantages so a ski-in ski-out resort is definitely the way you should go.
Best Ski-in Ski-out Places In The World
Finding resorts that offer ski-in and ski-out facilities is not as difficult as you may think. The majority of the most well-known resorts around the world will boast this facility, keep reading to know which are the best! 
Les Arcs- France
Les Arcs is a ski town located in Savoie France with four villages. These ski-to-door resorts are car-free, with hotels, chalets, and apartments giving you swift access to the second biggest linked ski area in the world where 70 percent of slopes are a snow-sure 2000 meters above sea level.
Les Menuires- France
Located in the Belleville valley of Les Trois in France, This resort offers 48 restaurants, 39 ski lifts, and 62 trails all without needing any form of transport. You do not come to Les Menuires for a spa gateway or to buff up on your history, with so many slopes and options, you can ski until the sun goes down without even seeing half of what the slopes have to offer. The lifts and slopes zig-zag from one end of the resort to the other, making the slopes accessible wherever you stay.
Obergurgl- Austria
Obergurgl is a small Austrian village with around 400 local inhabitants. The highest parish in Austria at 1930 meters and is one of the few resorts in Austrian to have doorstep skiing. Austria is known for its scenic slopes with a variety of difficulty levels to suit even the most inexperienced skiers.
Beaver Creek- Colorado
One of the best places to ski in the US, Beaver Creek has a wide variety of options for everyone. More importantly, it's got some of the best ski-in, ski-out hotels in the world. On the slope side, Beaver creek is known for its black and double black bump skiing. It's also got steep cross country style terrain served by lifts with no hiking required.
It Is the Most Convenient Ski Holiday
let's face it, a ski-in ski-out holiday is by far the most convenient and best way to spend a well-earned ski holiday. With all the benefits that come with it, it's no wonder these types of resorts get fully booked months in advance.
Are you an avid skier? Not sure on the difference between nordic skiing and alpine skiing? Read our blog post and find out more!