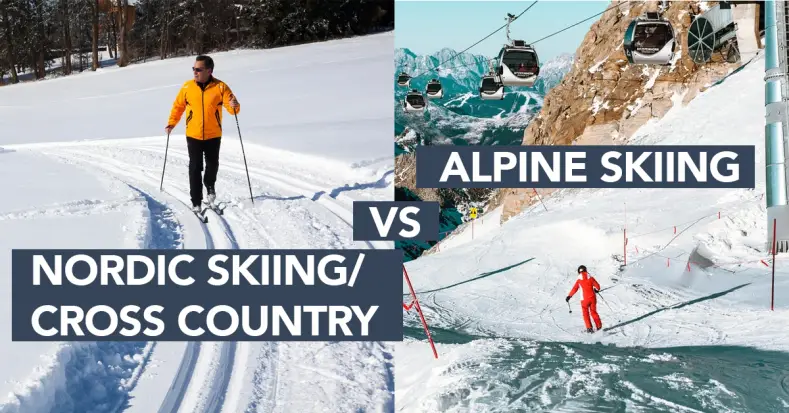 Among winter sports, skiing is one of the most popular activities suitable to almost all athletic levels. Last year alone, resorts reported 59 million ski visits in the United States. That's the fifth-best year on record and well above the expectations for a pandemic impacted economy. Of course, heavy early snow on the East Coast and people's willingness to get outside even in the dead of winter helped fuel the interest in snow riding last year. So, if skiing interests you but you can't tell your binding from your edge, or nordic skiing vs. alpine skiing, then a little education is in order.
Nordic skiing utilizes a boot with a free heel so that skiers can traverse a variety of terrain and is an aerobic exercise akin to jogging. Alpine skiing employs a stiff boot attached to the ski at the heel and toe and requires a slope for execution.  
In the following article, we'll deliver some skiing basics and delineate between nordic skiing and alpine skiing. Hopefully, by the time winter roars in, you'll be swooshing with everyone else. 
Skiing Basics
Early peoples used skis to travel vast distances on icy terrain and covered the bottoms of the devices with animal skins or furs to give them climbing traction. These traditions dates back 5,000 years and continues today. 
The Scandinavian cultures of northern Europe are the most well-known user of skis and have integrated these tools into almost all facets of their lives. For example, paintings depict Viking-looking warriors skiing with axes and spears. Also, the skis came in helpful in managing cattle and other livestock during the long winter months.
Also, these cultures considered skis essential to travel and trade. 
While skiing for exploring and high mountain work has seemingly always been popular, the activity became a recreational activity in the late 1800s. It exploded in popularity after the sport's inclusion in the Winter Olympics and the advent of the metal ski and plastic boot for alpine skiing in the 1950s and 60s.
One of the first resorts dedicated to skiing was the La Clusaz in the French Alps. This resort, about an hour away from Geneva, opened in 1907 and has been in continual use since its opening. 
In the U.S., our first resorts were Alta in Utah and Sun Valley in Idaho, which both started selling tickets in the 1930s. The first chairlift was an American invention and was installed in Sun Valley in 1936. 
Nordic Skiing vs. Alpine Skiing
Nordic skiing is a more traditional form of skiing akin to an endurance sport like running and jogging. Also called cross-country, or XC for short, nordic skiing is easier to get the hang of than alpine or downhill skiing and is done wherever there is open terrain to swoosh through. 
Alpine skiing is called downhill for a reason; you need a slope to pull off the sport. Any extended flat areas will impede your ability to travel. 
Downhill skiing is done by putting yourself on the top of a slope and navigating your way down through a series of turns. 
Resorts all over the world cater to one or other sports and in many cases both. For example, many alpine skiers enjoy a spin on an XC trail, and nordic enthusiasts often have some skill downhill. 
Cross-County Skiing
Cross-country skiers use a soft boot and a binding to connect their legs to a thin ski. The binding is in the boat's toe so that the heel is left free to raise and lower.
The skier uses poles to help with propulsion and stability. These poles are typically longer than alpine poles because you extend your body forward in the ski movement to propel yourself ahead. 
For nordic skiers, there are two types of skiing techniques that XC skiers use: classic and skate.
The classic skier uses an inline motion to propel themselves. It looks like a runner's gate, but the legs never leave the ground but slide across the snow. 
With the skate technique, the skis are shorter and have more of an edge so that you can move from side to side and skate one ski and then back to the other side. This form of cross-country skiing takes a little practice but is faster than the classic position. 
To get the most out of nordic skiing, the skiers need a reasonable distance to travel to maximize the experience and their aerobic workout. Hence, a groomed course is often maintained by a resort or touring center. 
XC Terrain Types
The degree of difficulty of these courses is usually delineated by their length, steepness, and terrain variety. That stated you could nordic ski almost anywhere; there's enough snow to allow your skis to slide, and it's not unusual to see people on cross country skis in the heart of New York City after a big dump of snow. 
Among some of the best cross-country ski resorts in the U.S. are Bretton Woods in New Hampshire and Smuggler's Notch in Vermont. Out west, Maplelag in Minnesota and Sundance Resort in Utah are among the best for the sport. 
XC Gear 
Your typical setup for cross-country skiing will cost anywhere from $700 to $1000. That's boots, skis, and poles. 
You'll also want to invest in some thermals that will pull moisture away from your skin, a good set of mittens or gloves, and a warm hat. 
You don't need a helmet to cross country ski, but you should always consider dressing in layers and realize that since you are almost constantly moving like you are going for a jog or run, you need to dress in layers and be ready to sweat.
Downhill Skiing
When most people think of skiing, they have a picture of ski lifts and vertical terrain in mind. This is alpine skiing.
Typically you need to go to a resort with some form of transportation to the top of the mountain. This is usually a chair lift, but some lodges and outfitters offer extreme snow vehicle rides to some terrain and even helicopter flights to tap untouched snow. 
Alpine skiing requires the snow rider to execute a series of turns to control their speed and navigate the slope and the variety of the terrain. 
Downhill skiing is an aerobic activity, but it's also an adrenaline rush. People need a certain amount of physical ability to execute turns and stay upright. 
Alpine equipment utilizes a high, rigid plastic boot. The boot is buckled onto the skier's foot. Its shape is designed to force the skier's weight forward and over the center of the ski.
The boot is attached, both toe and heel, by a binding connected to a ski. These bindings are set to release the boot if too much force is applied laterally. This is important because, in the case of a fall, the skis will not tumble with the rider and cause injury.
The level at which the binding will release is adjustable so that expert skiers will experience fewer instances or release as they are likely to put more pressure on all areas of the ski.
It can be a challenge to navigate up a hill or on flat terrain with your downhill skis on, unlike cross-country skis. Therefore, a shuffling or skating technique is generally used for these instances.
Poles are generally used by alpine skiers for balance and propulsion on flat areas but are not required.  
Alpine Trail Types
Trails or runs for downhill skiers are typically determined from easiest to expert level and are color-coded. Green is for novice skiers, blue trails for intermediate skill levels, and black or black diamonds for expert proficiency.
In alpine skiing, turns are made by applying weight to the downhill ski and lightly lifting the uphill one. Simultaneously you swivel your hips and execute your turn.
Sound simple? Expect to put in about 10 weeks before mastering the necessary parallel skiing technique needed to navigate expert terrain.  
Alpine Skiing Gear
A beginner alpine skier should expect to spend about $600 to $800 on a new set of boots, poles, and skis. However, you can pay $800 on a pair of skis alone. The best equipment in the sport is expensive. 
The more you pay, the lighter and more durable the equipment is. 
Also, most skiers these days invest in a helmet, although these are not required at resorts. The helmet won't protect you from a fatal collision in most cases, but it will save you from serious concussions. 
Other gear you should consider is a good set of thermals, a weatherproof jacket, ski hat, gloves or mittens, and googles.
Unlike nordic skiing, goggles are essential to keep air and the elements out of your eyes and prevent tearing. In addition, tinted goggles act as sunglasses and reduce glare and help you pick out terrain features in the snowfield. 
Remember, you'll be sitting on a chairlift to access each run, so you'll need clothing that protects you from the cold and weather but is still breathable enough for aerobic exercise. 
What's Best for You? 
When debating which to try, nordic skiing vs. alpine skiing, you should take an inventory of your personality. For example, if you enjoy a thrill and an adrenaline rush, you may want to consider alpine skiing.
If you are a nature lover who enjoys some quiet woods and a personal challenge, then you may want to consider cross-country. 
Are you ready to give skiing a try? Search this website for more on nordic and alpine skiing.