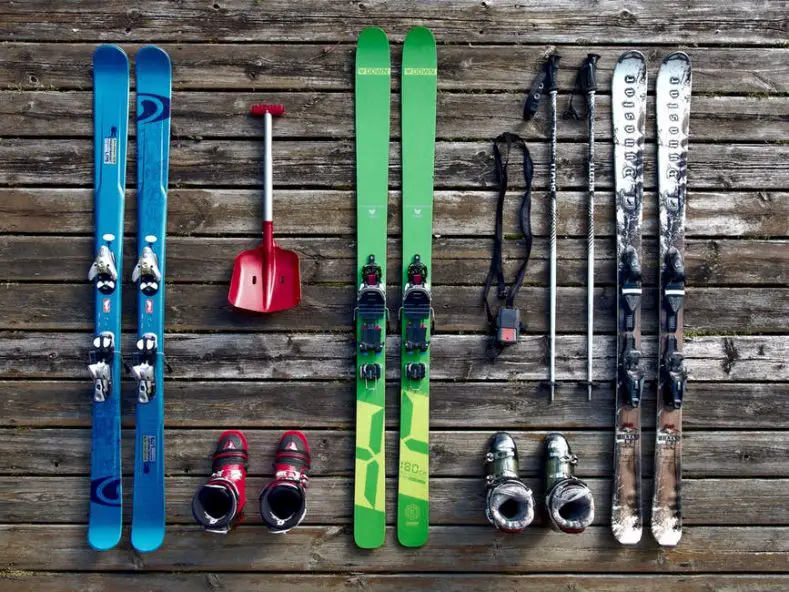 Are you aware that a brand-new pair of skis cost between $400 and $1,000?
If you're a ski beginner, you might find it daunting to invest in a new pair. Starting with a pair of used skis can be easier on your budget. This can help you get an idea about the experience and if you want to continue skiing.
Not sure where to begin? Don't worry; we've got you covered. This guide will cover some tips on buying used skis. Read on and find out:
1. Inspect the Edge of the Ski
These are the mounted metal strips located on the sides of a ski. The edge of the skis and their condition and shape will determine their performance. For a secondhand ski to be worth your money, ensure that it has well-maintained edges.
Inspect the ski edge and look whether it's sharp and suffered no rusting. Run your fingernail along its surface. It helps you feel whether it has ridges and gauges while determining its sharpness.
The edges must be straight. To ascertain this, give it an eyeball test. Hold it like you're looking through a rifle's sight or a pool cue.
Never buy used skis if their edges look twisted. The same applies when it has bulges, dents, and gaps. Most of all, avoid getting it if the edges feel loose.
How Much Edge Does the Ski Have?
Ask this question as well when inspecting the edge. Grinding off the edge of the skis is a normal part of tuning. If the skis had lots of tuning, the edges might be too thin.
Thin edges limit the number of tuning you can do in the future. Check whether the edges of both skis have the same thickness. If they're different, it's because the ski with the thinner edge sustained heavier damage and use.
If you want to invest more in skiing, check out this guide. We'll talk about the costs associated with this snow sport.
2. Look at the Base
This is the area underneath the ski used for riding on the snow. It's another important component that affects its performance. You must ensure that it didn't sustain enough damage that it breaks within the next few sessions.
The ski base often gets gouges and scratches when it collides with hard objects like rocks. These are easy to fix, as long as they're short and not too deep. Long scratches on skis are acceptable as long as they aren't near the edge.
Never buy used skis if they have deep gauges. It's too deep if you can see the core of the ski. It's dangerous to get these items because water gets into the core.
When this happens, the water will freeze and thaw in a cycle. It weakens the entire ski, making it likely to break within a few uses. It's a waste of monetary investment since better options are out there.
A good test is putting two skis base-to-base. Slide past each other sideways and see whether the movement is smooth. Ask the ski shop to grind the bottoms of the skis when you hear clicking noises.
3. Check the Top Sheet
Ski enthusiasts also call this the top plate or ski cap. It's the area on top of the ski. It's where you mount the bindings, and your feet attach.
It's common for the top sheet to have small chips, gouges, and scratches. However, as we mentioned before, deep gouges are a no-go. It's for the same reason, so avoid skis that sustained this kind of damage.
Check each ski if they suffer from delamination of the top sheet. If you find that its layers are separating, find another pair. Be thorough with your examination to see whether the edges suffer from the same damage.
Examine the tail and the tip of the ski for delamination. It's more likely for the former to sustain this damage. It often happens when people pound the skis into the snow.
4. Examine the Bindings
A ski binding holds your boot to the ski. It's a mechanical device to ensure your safety. In most cases, used skis come with bindings, unlike their new counterparts.
Every year, various ski authorities publish a new list of indemnified bindings. It means that the bindings contained on the list are safe for you to use. It means if the bindings aren't on this list, they can be dangerous.
Ask your ski shop whether they have the indemnified bindings list. Your objective is to get used skis that come with serviceable bindings. It means ski repair shops will only service bindings within the list.
As a general rule, bindings disappear from the list after a decade. Regardless, inspect them even if they're on the list. See whether it has cracks and loose parts or mounting screws.
Check whether DIN settings are consistent for the front and rear. If they have varying spring settings, it means one part wore out. Bindings may easily get released.
The good news is that ski shops have the tools to measure the binding springs. It ensures both safety and maintenance.
Most used ski shops buy used rental skis from large ski resorts. It's unlikely for these to see a lot of use, meaning they're newer than most. The best part is that their bindings are easier to adjust.
5. Look for Recent Tune-ups
Look whether they used machine buff wax and sharpening methods. Recent tune-ups are good because it's a sign that the seller takes good care of their skis. A fresher tune-up means you'll enjoy the skis sooner since you need not put in much work before use.
Start Buying Used Skis Today!
These are some of the best ways to know how to buy used skis. Use these when buying used skis to get high-quality equipment.
Are you looking for ski gear guides? If so, check out this section and get started on your skiing journey.