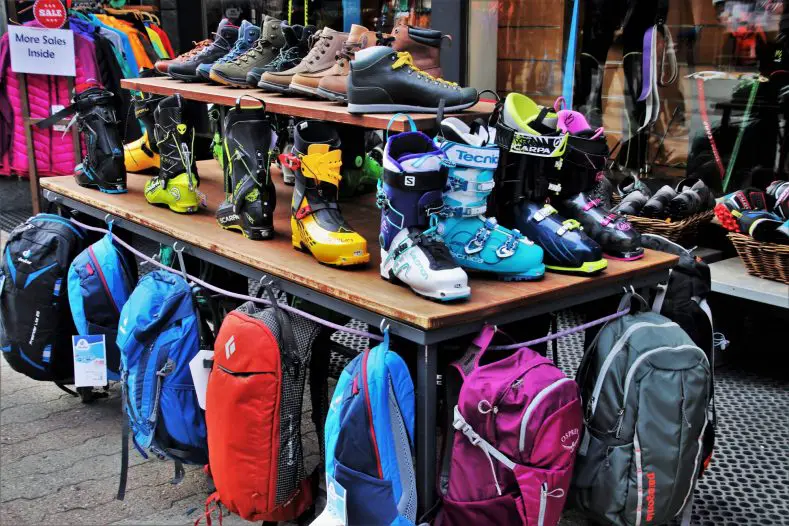 Still shredding the slopes in that rental gear? Are you tired of taking time out of your ski day to deal with equipment rental lines and hassle? Are your skis and boots showing telltale signs of wear and tear? It could be time for an upgrade with an end of season ski sale.
Don't let the cost scare you away from owning your own ski gear. 
With a little research and some patience, you can find affordable skis, boots, and other essential gear. Now is the time to end your relationship with ski package rental. Keep reading to find out how to take advantage of this year's end-of-season ski sale. 
What Is an End of Season Ski Sale?
When is ski season? Alpine slopes are usually open from November to April if weather conditions allow. Some ski areas may stay open until May or June.
End of season refers to later spring months. Most end-of-season sales start in February and run through April. Temperatures are rising, snow is melting, and many slopes are winding things down for the ski season. 
When ski shops near the end of the season, they need to move the old inventory to make room for the new. Retailers are looking to make a profit off of products they've been holding for too long. This provides great opportunities for thrifty thrill-seeking ski enthusiasts. 
Most major online and brick-and-mortar stores have end-of-season ski sales.  Stealthy shoppers agree that the end of the ski season is the best time to buy skis, boots, bindings, and ski clothes. 
What Kind of Gear Can I Get and Where?
Many retailers discount all things alpine ski-related during their end-of-season sales. Sites like evo.com and peterglenn.com have great deals on skis, boots, and poles. You can find goggles, helmets, and gloves on sale at REI (online or in-store), and Dick's Sporting Goods. 
Discounted jackets, snow pants, hats, and gloves, check out the following sites: patagonia.com, thenorthface.com, moosejaw.com, and sierra.com. 
President's Day weekend the best time to buy skis, boots, poles, and other gear. Most holiday sales offer discounts, President's Day kicks off the most end-of-season sales. If you can catch one, you're likely to find a better selection available than if you wait until March.
If you're really patient you could wait until the 4th of July or Memorial Day. Shops will run sales during these holidays but the selection will be mediocre at best. 
How Much Can I Save?
Clothing and accessories go on sale several times a year. Skis, boots, and bindings discounts don't come around as often. If you can save your money and wait for sales on equipment, it will be worth your while.
There aren't any written rules about end-of-season discounts. Industry-standard seems to be 40% to 60% off equipment during end-of-season sales.
Waiting until summer could save you some serious cash. If you're scouting for a new jacket, hat, or gloves, or snow pants, expect discounts up to 70% off at some stores.
Before you jump into the first discounted pair of Rossignals you find, take a look at these shopping tips. 
1. It's So Last Year
The truth is, ski equipment doesn't usually change a lot from year-to-year. With a few exceptions, newer models are simply small technical upgrades and new colors and/or graphics. Keeping this in mind, you'll be happy to know last year (or even two years ago) models are great purchases.
Buying last year's equipment might also give you the opportunity to buy an ex-demo pair of skis. Skiers can test out skis before buying them by checking out demo skis. If they like them, they'll buy a new pair (plus bindings).  
Demo skis often come with bindings, making them an instant bargain for anyone who doesn't mind slightly used-yet still new-skis. Ski shops will often grade ex-demo skis so the buyer knows how much wear and tear they've been through.
Does buying last year's styles give you FOMO? Well, if you don't know an upgrade is coming, will you really miss it? 
2. Research Average Prices
If you don't know the average price, how will you spot a good deal? Before you buy any ski equipment, poke around a bit online and at brick-and-mortar stores.
What are the prices of skis and boots NOT on sale? How much does it cost to get skis without bindings? What are average sale prices?
Understanding standard retail prices will help you determine if that advertised end-of-season ski sale is a good deal or not. Some retailers tend to raise base prices right before sales and advertise generous "discounts". If you know the average prices, you'll be able to spot this tactic. 
3. Take Your Time
Patience is important when hunting for the perfect ski sale. After you've done some research to determine average prices, you can watch and wait. 
Without being too obsessive, check your favorite ski shops online once a week. Retailers often send sales alerts for signing up for email or text lists. 
Waiting for your favorite gear will pay off if you can find that perfect discount.
4. But Not Too Much Time
Keep in mind not all sizes and colors will still be available at the end of the season. If you need a specialty size or style of ski boots, they may be gone by end of the season. If you have trouble finding shoes on department store clearance racks, you may have the same problem when shopping for ski equipment.
Colors get picked over as well. If you absolutely must have that lime green and black North Face Triclimate, snatch it up before it sells out. If you're willing to be flexible with design, colors, and sizes, you'll probably find something in that end-of-season sale for you.
Waiting for sales is like rolling the proverbial dice. It's a great feeling when you win. However, letting your favorite brand, style, or size slip away might just sting a little bit, too. 
5. Beware of Pre-owned
Discounted doesn't mean second-hand. The internet is full of exchange sites, ski swaps, and other events. Here are a few problems with buying second-hand (or used) skis, bindings, and boots.
You don't know where they've been. There's no odometer to tell you how many miles those skis have seen. You don't know how often they've been tuned up (if at all).
If those new-to-you skis have seen more than the owner is letting on, you could end up skiing on beat-up equipment. 
The same goes for helmets. How many yard sales has that helmet experienced? Stay smart and protect your brain by buying a new helmet without an unknown history.
Don't ruin your good time. Ski trips are investments. Subpar equipment robs you of your best ski experience. You've spent time and resources getting to the slopes, you should have quality gear to help you ski, not hinder.
You can't try them on. When it comes to ski boots, try before you buy. Each brand has unique sizing. Each foot has different strengths, weaknesses, and shapes. 
Ski shops with knowledgeable staff can help you find the size and style best for you. Since this is such a variable factor, buying without trying could end in uncomfortable equipment.
What's the return policy? Many swap sites and social media sales platforms don't have return policies. If you buy a pair of boots that don't fit well, you'll have to pay to ship them back if you can return them at all. 
Pre-Owned Clothing Is a Different Story
Online consignment clothing is widely available. Thanks to sites like thredup.com and ebay.com, you can find gently used jackets, gloves, sweaters, or snow pants for a fraction of the full retail price. Just be sure to wash all gear before you wear it. 
6. Scope Out Pre-Season
Pre-season ski sales start in late summer or early fall. Shops are shedding their end-of-season leftovers. You can take advantage of these sales if you're not too picky.
Follow the same research process you would for an end-of-season sale. You should also be ready to snatch that deal up when it comes. Again, keep in mind the pre-season selection can be very limited. 
Research. Wait. Snatch. Shred.
Buying your own ski equipment doesn't have to break the bank. Saying farewell to the rental game gives you more time on the slopes and less time in a rental line. 
Finding average prices for ski equipment and clothing helps you recognize good sales when they come along. If you're patient and wait for your items to drop in price, you can win big at that end-of-season ski sale.
Now that you know when to buy skis, check out our blog to find out how long skis last, average ski vacation costs, and more. Our community is here to help you learn more about all things alpine skiing!