Last updated on February 8th, 2021 at 08:15 pm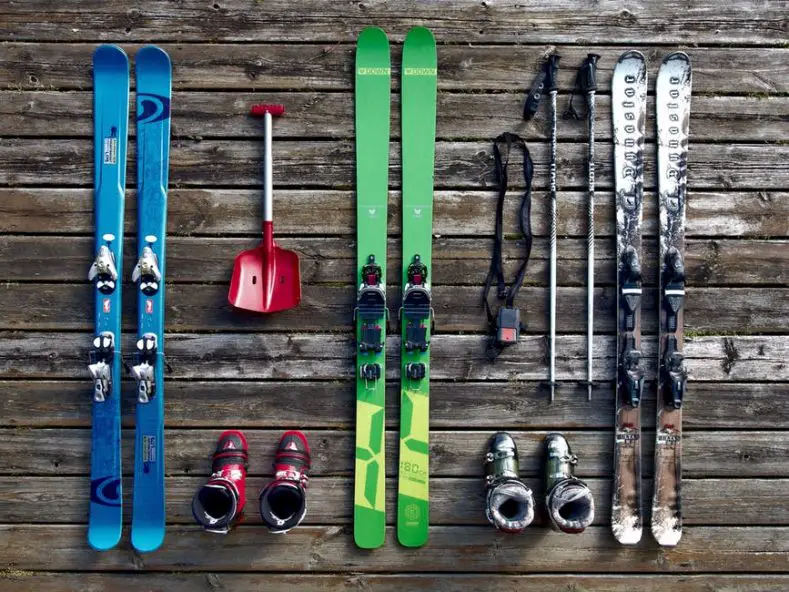 There is always a minor detail we tend to forget about when we plan a ski trip.
You have your skis, helmets, and other gear like your skiing booster straps ready. The snow forecast looks great, and you are prepared to hit the slopes.
And then it hits you. Something that can be a logistical nightmare if left to the last minute.
What is your ski transport plan? 
With adventure and domestic travel predicted in 2021, more people will ski. And more likely, locally. For many, this means figuring out how to fit skis in a car. 
There are several factors to consider, from the risk of theft to damaging skis or your vehicle. 
Whether it is your first time, or you want to review how to pack skis, we have you covered. Be sure to keep reading this guide for the best ski transportation methods. And save any last-minute stress!
Put Skis in the Car 
It is the question we all ask ourselves at some point: how to fit skis in the car?
Putting skis in the car is the most economical option, but it is easier if you do not have a full car. It also stops skis from getting dirty and is more secure from theft.
Try to use a ski bag no matter what type of skis you have. A bag stops your car from getting dirty after a session and reduces dings to the interior. A bag also minimizes the risk skis have in injuring someone if there is an accident or sudden stop. 
A ski bag is an excellent investment for air travel with skis too.
Alternatively, use towels to cover the ends of your skis and poles. A bag or towel is not a guarantee of no risk but certainly reduces it.
If you can, put your skis in your truck and through the center of your car. Fold-down a back seat if you need to do this. This way means the skis sit between people.
Secure your skis by putting other items like helmets and clothes on top. 
An overnight trip, more people, and a lot of gear make this method trickier.  
Buy a Ski Cargo Box
Cargo boxes sit on top of your car and have many different uses. So while there is an investment to install roof bars and the box, you can use it year-round.
Your gear is secure and hidden, and there is no risk of a dirty car. There are different designs, too, with many designed to reduce drag while driving. 
The downsides? If you do not fancy driving around with a cargo box all the time, it is a costly space taker in your house. Plus, with a roof rack and carrier, there is a significant impact on fuel economy.
You need to install the cargo box to your roof bars. A professional can install this, or you can by following the given instructions. 
Use a Roof Ski Rack
Do not DIY tie your skis to your roof! Skis can easily fall out. 
You need a rack that attaches to your roof. Then you open the bars, attach your skis and click it shut. 
A ski rack exposes your skis to the elements. There is a risk of theft as gear is on show. 
It is cheaper than a cargo box, but most racks still need roof bars. But it tends to be easier to install and pack away. Look out for magnetic or suction cup ski racks for alternative options if your car does not have bars.
Consider whether your ski transportation method is just for poles and skis or other gear too. If you are stretched for space, a cargo box works better to throw more items in with the skis.
A tip for how to drive with skis on a rack: be aware of the extra height! And always clean and check your ski bindings after long drives. 
Utilize a Hitch
If you have a hitch mount attached to the back of your car, use it! Or buy one!
This method of ski transport is similar to the roof rack. Many ski racks are designed to adapt to general hitches or bike racks. So a hitch can be a good investment for those who love outdoor activities. 
Check your hitch size meets the requirements for your vehicle and the product. 
The same disadvantages of roof ski racks apply to this ski transport method. But there are some other advantages.
Hitch ski mounts are easier to access at eye-level. There are even some that can move, so you still can easily access your trunk. 
As with roof ski racks, how you drive with skis on a hitch mount is the same. Be aware of the extra size, especially when parking!
Try a Window Ski Mount
A window ski mount is a not so common but inexpensive option suitable for all car types. They attach to your window almost instantly, with no need for installation.
There could be wind noise from the window, as it will not be correctly sealed. But the mount does transport skis securely and includes a lock. Just be careful when exiting the car as some mounts need to be removed before opening the car door!
A window ski mount is an excellent portable option if you travel abroad and wonder how to pack skis in a rental. Also, it works well if your car does not work well with a roof rack or hitch mount. 
Ski Transport Made Easy
Which ski transport option works for you? Consider what you are willing to invest in and what could serve as a multi-purpose tool. 
The most important thing is to drive safely, pack skis securely, and care for them between uses. 
Consider ski rental if you have not invested in skis. Or if you remain unsure about what transport method works for you. Then you can check out how other people drive with skis!
Did you find this article helpful? Check out more of our ski gear posts.